There are many factors to consider when estimating a bathroom remodel cost, but the nationwide average cost is around $11,000. The typical range people spend on their bathroom renovation is from $6,000 to $16,000. Again, many factors go into this, and you have a fair amount of control over how much you spend.
Knowing what to expect for the size of your bathroom and how extensively you plan to renovate it can help ensure you end up with the best bathroom for your needs. A plan can also help you lower your bathroom remodel costs. If you need help with your bathroom remodel, A to Z Construction is the place for you.
What Influences a Bathroom Remodel Cost?
The main factors that will decide the average cost to remodel a bathroom are the extent of the remodel, the size of your bathroom, and what type of fixtures you choose.
How Extensive Are Your Renovations?
Your bathroom remodel cost will largely depend on how extensively you plan to renovate. If you are only doing a minor refresh, you may only give the bathroom a fresh coat of paint and replace some details, like the faucet, towel bars, and mirror. You can often accomplish these projects for only a few hundred dollars.
If you replace the major fixtures, including the tub, shower, sink, and toilet, your cost could be in the thousands, depending on how high-end your new fixtures are. Bathroom remodels that include replacing tile and flooring in addition to the fixtures will probably be upward of $10,000.
Finally, if you're digging into the walls and floors and moving elements around, you can reasonably expect to pay $25,000 or more. Projects this extensive involve rerouting electrical wiring and plumbing, so there is a lot of extra cost from the experts hired to do those aspects of the job.
How Big Is Your Bathroom?
The size of your bathroom is another significant determining factor in your bathroom remodel cost. Larger bathrooms require more materials, such as flooring and tile, and often have larger or more fixtures.
For instance, a large bathroom may have a double sink and larger counter or a jetted tub and separate shower. A small bathroom likely would not include these items, so the overall bathroom remodel cost would be lower.
A small-sized full bathroom averages 40 square feet and between $2800 and $10,000 to remodel. On the other hand, a large 100 square foot bathroom could cost between $7,000 and $25,000, and an 18-32 square foot half bath averages just $1400.
Do You Plan to Include High-End Fixtures?
The cost of the fixtures in your bathroom is the part of the bathroom remodel cost over which you have the most control. The average cost to remodel a bathroom has quite a wide range due to the various choices of fixtures.
For example, you could spend as little as $1,000 on a prefab shower stall or $15,000 or more on a tiled walk-in shower. It depends entirely on your preferences and how much you are willing to spend.
Breaking Down Your Budget
Many elements go into a bathroom remodel, often making it difficult to budget for those individual components. Make sure you are allocating funds within your budget appropriately, so you don't get left short toward the end of your project.
For example, if you have a small budget of $8,000, as much as you may want to splurge on that $5,000 tiled walk-in shower, that will likely put you significantly over your budget.
For a general idea of how to divvy up your budget on a complete remodel, here are some of the larger aspects and how much of your budget you can expect to spend on them:
25% on cabinets and shelving
23% on the shower, tub, and toilet
15% on your contractor and permits
12% for counters, sinks, faucets, and plumbing
The remaining 25% needs to cover your demo and site prep, flooring and tile, windows, doors, vent fans, lights, and other details.
It is wise to leave some extra budget at the beginning of your project for unforeseen repairs. Bathrooms are high-moisture environments, and an unknown leak can cause significant damage.
If you plan a small-scale remodel of only replacing the sink and vanity, it is tempting to pick out the best elements you can afford. There is nothing wrong with dreaming big, but if those items will take most of your budget, try to hold off on purchasing them until the demo has begun.
For instance, if you find damage from a hidden leak under the flooring under your current vanity and mold growth, some of your budget will need to go toward replacing or repairing the floor. This situation could strain your finances if you've already purchased an expensive vanity.
Sometimes, you must order elements well ahead of demolition. If that is the case, make sure there is leeway somewhere in your budget to handle any unpleasant surprises. If the project goes smoothly, you can always splurge toward the end of the project or designate the leftover funds for other household projects.
Tips for Reducing a Bathroom Remodel Cost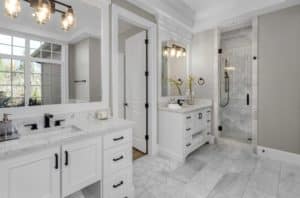 How much is a bathroom remodel? If your budget is tight, or if you want to splurge on certain elements, you can often cut in one area of the bathroom remodel cost to allow more spending in another.
Refresh Only Certain Elements
If you want a new tiled shower, but your budget isn't enough to accomplish an entire remodel with a walk-in shower, maybe you can leave the toilet, sink, and cabinets as-is and put your entire budget toward your dream shower.
If you have definite desires, think about what your priorities are and what other elements can be left alone to allow that splurge.
Finish Small Jobs Yourself
Doing work yourself is a fine line to walk. It can save on your bathroom remodel cost, but it will always take you more time than it will take the professionals, and the bathroom is often not a room people want to live long without.
However, if you truly need to scrimp on the budget, consider doing finishing work like painting, installing towel bars, or adding door handles and drawer pulls yourself. These small end projects won't affect the usability of your bathroom once the pros have handled the functional aspects.
Choose Less Expensive Fixtures
Everyone wants their newly remodeled bathroom to look its best, and you may have dreams of the exact fixtures you want. However, if those fixtures are going to break your budget, you can often find similar items at a lower price point.
Don't go too cheap, as extremely low prices usually indicate a lack of quality. If your intricate tiling work doesn't fit in the budget, however, perhaps you can find a less complicated arrangement using the same colors to make for less labor and lower your bathroom remodel cost.
Splurges You May Want to Budget for
Don't be afraid to dream big with your bathroom remodel. Even if you're wondering "how much is a bathroom remodel?", you shouldn't let the potential price affect your choices. After all, you want to love the result of your renovation, and many more expensive, high-quality items will save you money in the long run.
Some items that may be worth splurging on include:
Built-in niches or shelves
Heated floors
Natural stone countertops
Double sinks
Custom shower seating
Jetted tub
If you can work them into your budget, these items can increase the overall function, beauty, and enjoyment of your bathroom.
Contact A to Z for Your Bathroom Remodel Today!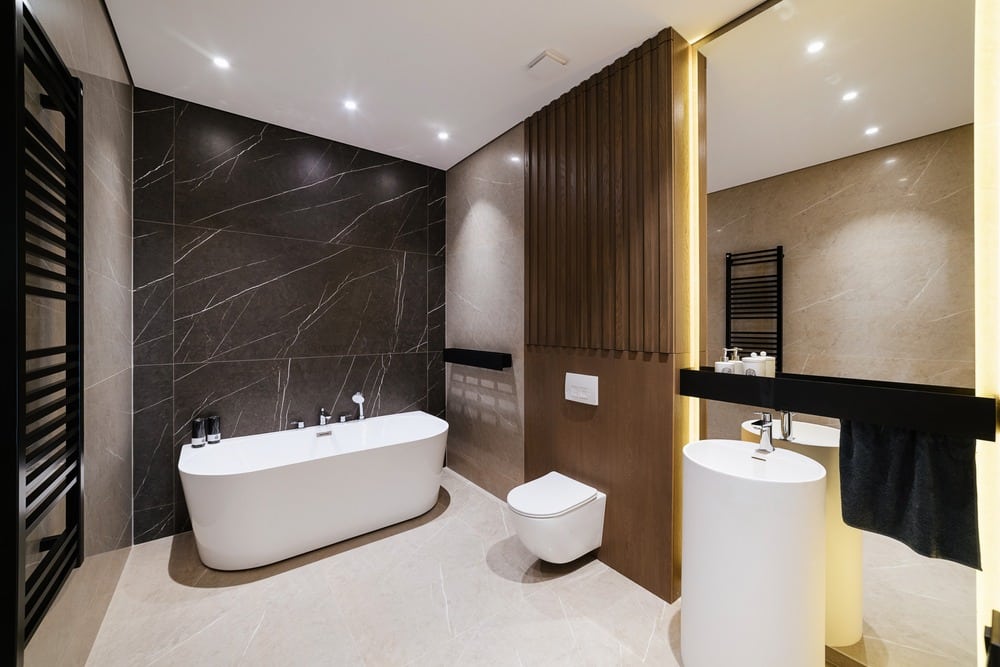 You can accomplish a bathroom remodel on just about any budget, but remember that the average cost to remodel a bathroom is around $11,000. You can expect to spend more for a larger bathroom and fancier renovation, whereas you'll likely spend less for a smaller bathroom and less extensive upgrades.
Whatever your bathroom remodel costs, make it a place you can appreciate for years. Contact A to Z Construction today to get started on creating your dream bathroom remodel.