More Than Just Your Local Deck Installation Company
A beautiful, spacious outdoor area deck has become an essential part of how we entertain in our homes and spend quality time with our families. Have you always wanted a great outdoor deck to enjoy the beauty of a crisp Minnesota autumn night? A to Z Construction Inc. knows you do. We're here to create the outdoor space of your dreams. At A to Z Construction Inc., we know that when you decide to add a deck onto your home or upgrade an existing one, you're looking for it to become a beautiful, functional addition for years to come. 
You've found our website most likely because you're looking for the right contractor for your deck project. Our name is A to Z for a reason. No deck project is too big or too small for our team of experts. We work with Minnesota homeowners to build a completely new deck structure or remodel a deck that will not only spruce up their exterior but will also add significant space to their home and significant value to their property. The deck contractors at A to Z are ready to get started on your deck project so you can have the additional space you want and need to relax, entertain and enjoy your home through many Minnesota seasons.
Professional Deck Installation Services in Minneapolis
A to Z has been working on decks in Minnesota since 2004, and our experience over the years, combined with our design know-how and dedication to making your dreams become a reality is what sets us apart from the competition. We've seen it all and we've done it all. If you think of your dream deck, we have enough experience to know exactly what you're talking about. 
You can count on our work being done to the highest standard and completed on time by our dedicated team. We will work with you from the start, ensuring that any deck you add on or refurbish will be one that inspires and upgrades your home for years to come.  A to Z deck services are listed below.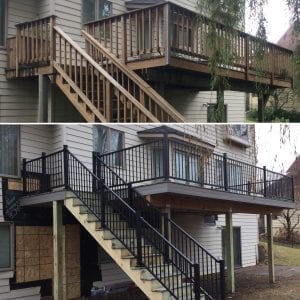 Deck Installation
This isn't IKEA. You don't have to worry about complicated directions. We'll take care of all that. 
Deck Remodel
Tired of your deck? Looking to freshen it up? Have some ideas you want to pass on to us. Our team is eager to hear!
Deck Upgrades
Imagine the add-ons and special features to increase your deck's appeal. Make your deck one of your home's most enjoyable living spaces, indoors or outdoors. We're thinking planters, cable railings, shade sails, hidden fasteners, lighting, benches, lattice skirting, you name it.
Deck Enlargements
We can imagine you might be tired of cramming into your small deck to entertain guests. It can be expensive to tear down and rebuild. As an extension of your house, why not just extend it further?
Deck Repair
When it rains, snows or gets windy, your deck is going to take all of the damage. We offer deck repair services for damaged wood, loose boards and rails, footings and support post integrity.
Deck Composite
From synthetic and composite decking materials, like Trex, we've worked with them all. Is it worth the price? We think so. 
Custom Deck Design + Build
Thinking multi-level? Gazebo? Pergola? Outdoor kitchen? Hot tub? If you can dream it, we can build it. Whether it's upgrading, replacing, enlarging, building from scratch, we have the expertise to turn your ideas into reality. 
Deck Staining
Many factors such as mildew, oil, dirt and even safety concerns can make the cleaning process a stressful experience. Our deck staining specialists can make your deck look beautiful while adding to the longevity of the wood. 
Which Deck Service Are You Looking For?
When you contact one of our expert Minnesota deck contractors at A to Z Construction Inc. today, your deck project will begin its journey to your outdoor living dream.
Take a look through our past deck projects.
Why Choose A to Z?
We know there are many deck contractors to choose from in Minnesota. There's quite a few here in Minneapolis. You've found our page somehow through the clutter, and we are happy to have you. We hope we have given you enough information about our services to show you that we can "technically" get it done right. Since we began building dream decks in 2004, we have been installing, remodeling and refurbishing decks for Minnesota homeowners. 15+ years of experience in turning your dreams into realized concepts, of knowing the right materials to use and the best building methods to utilize goes a long way! 
Sometimes technically getting it done right isn't enough. Deciding on the right deck builder for you and your home can be an overwhelming prospect at times, because of various judgements like the photo gallery of past projects, how many 5 star reviews, price issues, how the company makes you feel during the first meeting about the project, project delivery times, or just simple trust factors.
Deck Projects With A to Z
Our deck projects are consistently delivered on-time, on-budget, and with the highest quality craftsmanship. Our past clients are thrilled with our work. We plan for every type of challenge that comes with home improvement projects, and it is that planning and attention to detail that yields the superior results that A to Z Construction Inc. is known for all over Minnesota.  
At A to z, we always offer estimates for our projects, with your satisfaction our number one goal. We won't be happy until you are. We're here, ready to make your deck dreams happen. Our team is ready to save your deck and keep it maintained through our various upgrade and repair services. Let us work with you to create a beautiful, functional, and safe deck that will last for years to come. You can trust A to Z to build you a deck that will both enhance your enjoyment of your home, upgrade its value, and contribute to your quality of life!