PREMIER MN TILE CONTRACTORS
#1 Trusted Tile Contractors in Twin Cities
Trust the professionals at A to Z Construction Inc. to beautify your bathroom or kitchen with stunning tile installations. Backed by 15 years of experience, our tile installation company has proven its commitment to delivering the very best service in town. Whether you're installing a personalized backsplash in your kitchen or new floor tiles in your bathroom, our dedicated professionals are prepared to take on any job no matter the size.
Tile Installation & Repair Services in the Twin Cities
We offer full-service tile installation, from simple backsplashes to specialty installations—like steam showers, radiant heated floors, and everything in between. We also install a wide range of materials including listellos, glass mosaic tile, all-natural stone tile, porcelain, ceramic tile and more. Our estimates are always free and accompanied by a consultation surrounding your specific project. We will show up on time and will always be available for any questions you may have. We offer services from demolition to finish in all tile and natural stone applications including:
Showers, steam showers and tub surrounds
Custom floated & set shower pans, benches, shampoo niches and shower shelves.
Fireplaces
Foyers
Backsplashes
Custom Tile Projects
Giving a bathroom some of your own personality can be accomplished with A to Z Construction Inc. We have done 100's of  custom projects such as showers for your needs and consult with you to make sure you are 100% satisfied with the end results. A to Z Construction Inc. is limitless to the type of tile the client would like to have installed and where they want it installed. Installation of floors, showers, backsplashes, walls and more. Our installers are up to date with the trending designs and standards to install the project perfectly and efficiently.
Custom tile installation for floors, and walk-in showers is one of our specialties. Because tile is a permanent finish, it's important to invest in a qualified installer. Our many years of experience, attention to detail, and commitment to customer service set us apart in the industry.
Working with tile and stone is one of the things we do best. If you're considering adding granite, marble, ceramic, porcelain, slate, or limestone to your home, give us a call. We have years of experience installing tile and stone for floors, walk-in showers, back splashes, and more.
Benefits of Tile and Stone:
Durable – Resistant to scratches and stains, tile or stone flooring is a practical option for rooms with high traffic or moisture.
Versatile – Tile and stone can be used for floors, walls, showers, counter tops, and trim. Mix patterns and sizes to create continuity and style in your home.
Clean – Tile and stone flooring is easy to care for and keep free of dust, dirt, and pet hair.
Timeless – Unlike decorating fads that come and go, stone and tile are classic flooring choices that add long-lasting value to a home.
Natural – An assortment of textures, colors, shapes, and sizes are available in tile and stone flooring. We can help you choose which one is right for your space.
Properties of Ceramic Tile:
Ceramic tile is a natural product consisting of clay, other natural minerals, and water.
Ceramic tile is available in a wide range of colors, sizes, shapes, styles, and textures to choose from.
In addition to being environmentally friendly, ceramic or porcelain tile offers beauty, design versatility, and low maintenance.
Ceramic or porcelain tile has been around for centuries. Today's advances in technology have made it possible for manufacturers to create designs and application methods that were unavailable even a decade ago!
Tile & Grout Cleaning Services
We are the area's trusted and proven professionals who specialize in tile and grout repair, cleaning, sealing, replacement and more. We offer affordable, quality service. Our well-trained technicians clean your grout using advanced technologies, which are 100% safe for your home and family as well as the environment.
---
Why should you have your tile and grout cleaned?
Just like with carpet, dirt builds up dulling your tile's appearance and discoloring grout. Over time, tile floors and surfaces lose their shine and beauty. Unfortunately regular dusting and mopping do not yield the same results as deep tile and grout cleaning. Clean grout not only looks better, it helps protect your home from mold, mildew, lime, and other contaminants.
Benefits of Regular Tile & Grout Cleaning:
Our process removes dirt, grime, oil, and bacteria
We can restore your floor to like new appearance
We use only environment friendly products
---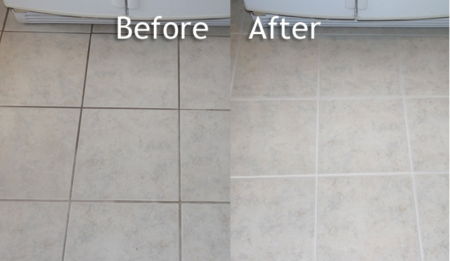 Our Tile Installation & Repair Projects
Take a look through our past tile installation & repair projects.
Why Choose A to Z?
We know there are many local tile installation and repair contractors to choose from. What sets A to Z Construction Inc. apart from the competition is our dedication to quality, craftsmanship, and service. Since 2004 we have been one of the premier tile installation and repair contractors in the Twin Cities because of our expertise, our commitment to only working with the best product lines on the market, and our unique ability to transform your ideas into a cohesive vision, resulting in the dream interior you've always wanted . 
No matter what kind of tile installation or repair project you have for your home, A to Z Construction Inc. can make it happen. Request a Free Quote today and we will help you get started. With us, your dream interior remodeling project is only a phone call or form fill away!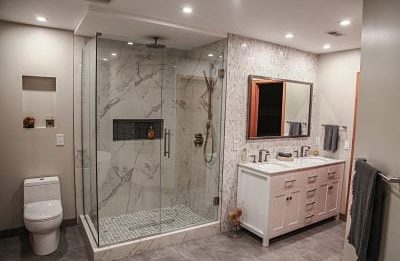 Tile Installation & Repair FAQS
How are porcelain tile and ceramic tile different?
The major difference is how the two are made. During the creation process, porcelain tile is blended with sand and heated to become a tougher, more durable surface, making it less porous and susceptible to water damage and spills. Porcelain tile is much denser and more durable than ceramic tile.
Should I order extra materials for my project?
You should never buy the exact amount of tile needed to complete a project. Always order 10%-15% extra product based upon pattern layout to accommodate for cuts, repairs, breaks and mistakes.
What is the average lifetime of tile flooring?
Porcelain tile is known to last the longest. If properly installed and maintained, ceramic tile can last a lifetime. Unglazed tile tends to show less wear than glazed tile and will last longer in higher traffic areas. According to the Study of Life Expectancy of Home Components, the average life expectancy of a ceramic tile floor is 75 to 100 years, while natural stone such as marble and granite can last more than 100 years.
How do I choose the right grout color?
You don't have to pick a grout that matches your tile exactly. Choose a color that blends with the colors in the floor tile. Due to different environmental factors and installation methods, the color of the grout will vary slightly in each installation, making finding an exact match difficult. Darker grouts are easier to keep clean. Modern grout is often stain and mildew resistant, making maintenance very simple. The shade you choose depends on what you are trying to accomplish – choosing lighter colors blends your design together, whereas darker colors create a more dramatic effect.
What are the functional advantages of ceramic tile over other floor covering materials?
Water resistant
Abrasion resistant
Color permanent
Does not cut, tear, gouge, puncture, warp, rot, burn or require refinishing
Is tile installation expensive?
Tile installation is more expensive when compared to other coverings. However, in the long run it can be less expensive when you factor in replacement and maintenance costs with other materials. Since it can be permanent, it is important to select a tile you absolutely love. We always recommend getting 2-3 quotes from different MN Tile Contractors so you can compare them apples to apples and choose the right Minnesota Tile Installation Company for your project.
Why do cracks appear in ceramic floor tiles?
If the crack is located in one area across a single tile, the tile most likely received a sharp blow from an object. When not bonded properly, ceramic tiles can break frequently in kitchens due to pots and pans getting dropped. This type of fracture can be repaired easily by replacing the single tile. However, if the crack is long, extending across multiple tiles, you are looking at a crack in the slab below. This can be repaired by removing the damaged tile, putting down a crack isolation membrane, and reinstalling the tile.
What is the best way to clean grout?
New Grout:
Since cementitious grout is porous, sealing will help keep grout joints clean. You should allow grout to dry for at least 48 hours. After 48 hours, make sure the grout is clean before sealing. Also make sure that the sealer you use is recommended for grout.
Existing Grout:
It is important that you establish a routine for cleaning existing grout. Occasionally clean with cleaners that contain acid, bleach, or vinegar. These type of cleaners will etch the tile and grout over time. You should have two types of cleaning procedures:
Occasional Heavy Duty Cleaning

Use Aqua Mix 'Heavy Duty Tile & Grout Cleaner'

Regular Routing Cleaning

Use a concentrated non-acidic phosphate free cleaner and occasional 'Heavy Duty Cleaning' when dirty
What causes grout cracking?
Too much water or polymer additive was used in the grout mix.
Water may have been added after cement hydration already began, which results in weak, crumbling grout.
Flexible Substrate (plywood, etc.)
The tile was not bonded, resulting in loose tile.
The grout joint was not completely filled during installation. This leaves voids on the surface.
Insufficient thinset (the glue applied over the mortar) was applied during installation.
When there is an isolated grout crack in specific areas in a large floor installation, the usual cause is lack of expansion joints.
There was a non-sanded grout used with the grout joints too wide. When the grout shrunk, it inevitably cracked.
What is bullnose tile used for?
A Bullnose tile is recognizable because of its characteristic rounded edges and is considered a trim piece for tile. Bullnose tile is used for the following purposes:
Eliminating rough or sharp edges of a finished tile design.
Replaces baseboard on a tiled floor.
Covers corners.
Frames the perimeter of a tile design.
Bullnose tiles are the perfect option for finishing up tile work because not only are they visually appealing, but they function well for decorative trim and protect your corners.
What is the difference between glazed and unglazed tile?
Glazed Tile:
Additional non-porous coating after it has been fired (a layer of liquid glass is added)
Good for kitchens and baths
Wider variety of colors and patterns
Less thick/dense than unglazed
Less slip resistant
Shows more scratches with higher lustre
Stain resistant
Unglazed Tile:
No additional coating
A bit more durable
Great for a variety of interior and exterior uses
Earthy coloring options
Denser/thicker
More slip resistant
Scratch resistance
More vulnerable to stains