COMMERCIAL ROOFING CONTRACTORS MINNESOTA
Your MN Commercial Roofing Company Twin Cities
No project is too big or too small for A to Z Construction Inc., your commercial roof repair specialists. Being a successful commercial Minnesota roofing contractor demands a different approach than residential projects.  At A to Z, we have commercial roofing teams that specialize in large-scale roofing installations and have a deep understanding of how to efficiently work on a commercial project. We work with property managers, apartment managers, homeowner's associations and business owners to install, repair or replace commercial and multi-family housing roofs with fully integrated roofing systems that offer the highest quality and reliability available in commercial roofing services. We work on apartments, townhomes, warehouses, malls, churches and more. A to Z Construction Inc. offers industry-leading warranties and an in-house service department to ensure long term satisfaction with your commercial roofing project. 
Commercial Roofing Services in the Twin Cities
Expert commercial roofing services require a specialized approach and knowledgeable team to be done right. That is why A to Z  has dedicated commercial roofing service teams who know the unique requirements a large scale commercial project or flat roof installation requires. We have years of experience managing a large crew and know the importance of meeting deadlines and keeping a supply chain of materials on tap to maximize efficiency and to ensure the job is brought in on time. With years of experience and commitment to customer service and quality work, A to Z Construction Inc. is a clear choice for all of your commercial roofing needs. You can count on our work being done to the highest standard and completed on time by A to Z's commercial Twin Cities roofing contractors. We provide the following commercial roofing services:
Commercial Roof Repair

Roof Replacement

New Roof Construction

Commercial Flat Roofing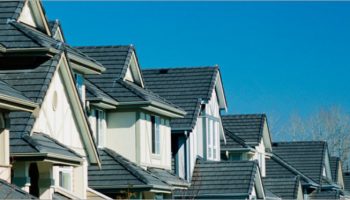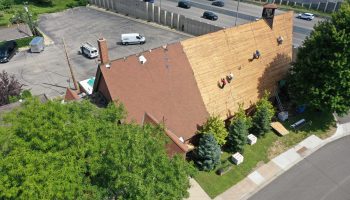 OUR COMMERCIAL ROOFING PROJECTS
Take a look through our past commercial roofing projects.
Why Choose To A to Z?
When you type the words "Commercial Roofing Contractors Near Me" into a search engine, we know lots of names pop up, and that you have many options from which to choose. What sets A to Z apart from the other Twin Cities roofing contractors? Since 2004 we have been repairing, replacing, and installing commercial roofs. From apartments to churches – we've done it all. Our commercial roofing projects are consistently delivered on-time, on-budget, and with the highest quality. We plan for every type of challenge that comes with commercial roofing. We know that commercial roofing installations and services require special knowledge, and that's why we have dedicated commercial roofing crews who know the unique challenges and expectations of a commercial project. You can trust A to Z to install the best commercial roofing for your property, and to care about your bottom line as much as our own.