Twin Cities Shower Remodeling Contractors
Are you considering giving your shower an upgrade? A to Z Construction Inc. is one of the top premier local shower remodeling contractors in the Twin Cities area. We have the expertise and resources to give our clients the home improvement they are looking for. 
Whether you are looking to change up the aesthetics of your bathroom or your shower is in desperate need of some renovation, we are here to help. With a wide selection of options to choose from, there is something in our collection to fit everyone's needs. We are confident that A to Z Construction Inc. will be able to transform your shower into something you can be proud of. 
Shower Remodeling Process
A shower remodel is not as straightforward as you would think. There is a surprising amount of thought and research that needs to go into selecting the perfect shower and executing a successful installation. Our services offer expert insight to make this journey a little easier and give you the results you want. 
1. Choosing Bathroom Shower Functionality
The first question you need to ask yourself is what you need for your bathroom shower. Do you need something smart and functional or want to opt for a model that is chic and stylish? We can help you find the extremes and everything in between!
There are tons of affordable options for you to explore. Customizing the different components of your shower remodel will allow you to get what you want and establish a budget for yourself.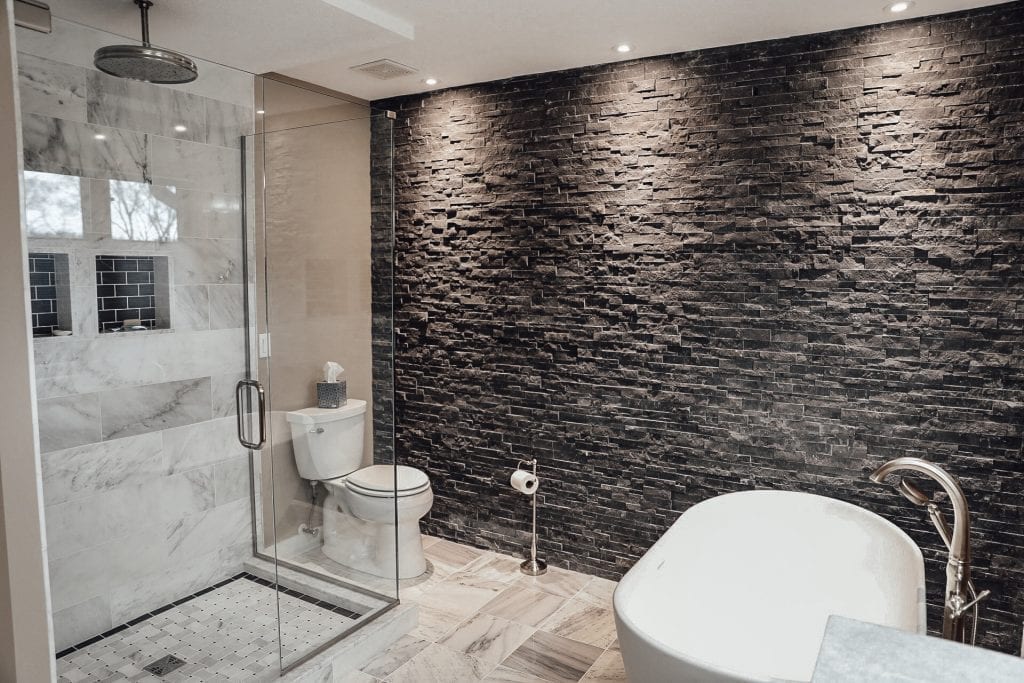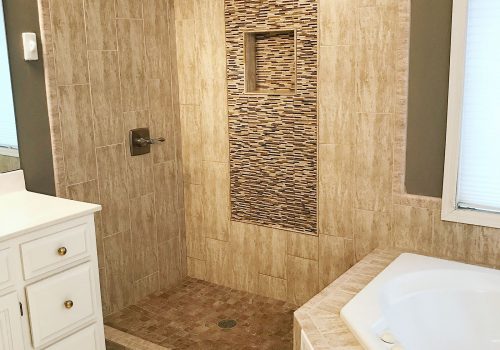 2. Choosing Bathroom Shower Design
There are many different ways for you to customize the aesthetics of your shower that can complement the look of your home or reflect your personal tastes. Whether you are looking to install a trendy, modern model or want to go for a classic design that's a little more timeless, A to Z Construction Inc. has something special for you. 
By combining different selections of shower surround material, enclosures, tile designs and shower glass doors we can help you create a unique piece that embodies your vision and needs. 
3. Selecting Shower Surround Material
Your shower surround will set the foundation for your new shower. Beyond the aesthetics, it plays an important role in protecting your bathroom from water damage.  Maintenance, durability, and look are all factors you need to consider when choosing your shower surround. 
Acrylic Shower
Acrylic is one of the most affordable options available that still maintains a certain degree of durability. They come in a wide range of color options and are incredibly easy to maintain. While they are not a strong as other surround materials, they are naturally non-porous and don't require regular sealing.
Ceramic/Porcelain Shower
Both ceramic and porcelain shower surrounds are very visually appealing. They are a popular choice due to their enhanced durability and classy look. They are a little more practical than acrylic options due to their quality but require a bit more maintenance and a slightly bigger budget.
Natural Stone Shower
Natural stone shower surrounds offer premium quality. Arguably, these surrounds offer the best aesthetic, giving a luxurious look. They do require the most routine work as their porous nature leaves them susceptible to water damage over time. Practicing regular maintenance can help keep these gorgeous surrounds in top shape.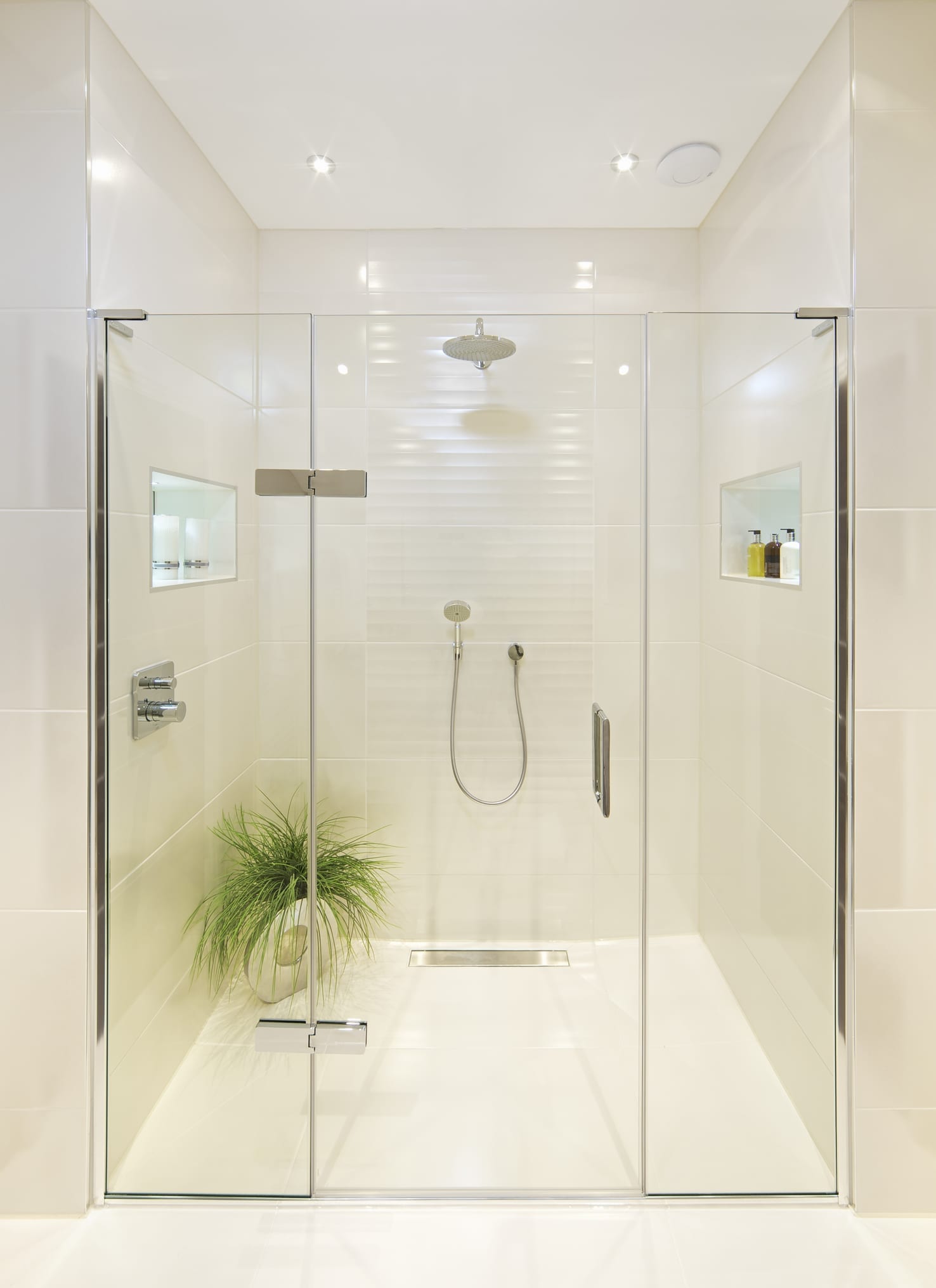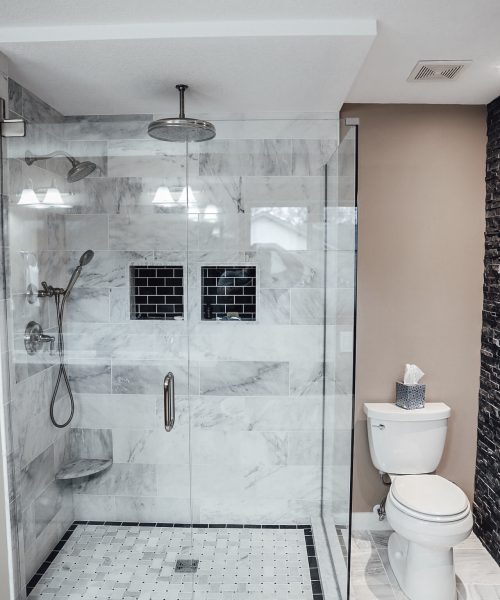 4. Selecting Shower Enclosure Design
You are going to have to use your shower every day, so it is important that you design something you enjoy getting into. A shower enclosure can change the way you think about showering. You need to consider the look you are going for and the practicality of the design in the space you have available. 
Doorless Shower
Doorless showers are the epitome of modern design. These minimalist enclosures are perfect for someone trying to avoid a cramped design and offer an open concept in the bathroom. While installing this shower enclosure is easier than you think, it is not feasible in every living space.
Half Wall Shower
Half wall showers offer something a little more traditional with a partially closed enclosure. They still have a modern look while offering something a little more practical for bathrooms that don't have the means to go completely doorless.
5. Selecting Shower Tile Design
Shower tiles arguably offer the most flexibility in aesthetic design. You will be able to explore selections of different patterns to your heart's content. By carefully choosing different combinations of shower tile colors and sizes, you can create the character you are going after – the only limit is your imagination. You can come up with something completely original or have one of the experts at A to Z Construction Inc. give you some advice.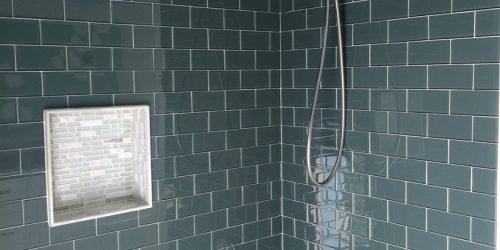 Our Shower Remodeling Projects
Take a look through our past shower remodeling projects.
Why Choose A to Z?
We know that choosing a home improvement contractor can be a bit daunting, but there is a reason why A to Z Construction Inc. has been one of the premier shower remodeling contractors since 2004. Our expertise and strong dedication to delivering only the best allows us to stand out among competitors.
Our number one priority is the satisfaction of your clients. After guiding us through your vision, we will do everything in our power to deliver you the remodel of your dreams. Working with only top-quality product lines, we will also ensure that these results will be around for you to enjoy for many years to come. Whether you have a solid plan or a murky idea you need to sort through, we will be there to help you every step of the way. Our role as your contractor is one that we take very seriously. 
We understand that home improvements are an important event that requires the utmost attention. Showers especially are an aspect of your home that most people use on a daily basis. The results of these projects are ones that you will have to face every day. A to Z Construction Inc. will make sure that you will be happy with the finished product. 
No matter what point in your planning adventure you are at, A to Z Construction Inc. is here to help you with all of your bathroom remodeling needs. You deserve to have a shower that feels like it was made for you. 
To get started on your journey to the shower of your dreams, contact us for a free quote today. You may be closer to your vision than you think.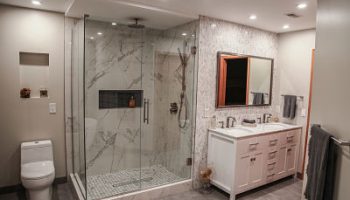 5 Year Workmanship Warranty
We Respond Promptly to Texts, Phone Calls, Emails & Form Submissions
We are Honest about All Aspects of the Project
We Educate Homeowners
High Rated Reviews on Third Party Websites
Everyone on our Team Meets Rigorous Craftsmanship Standards