MINNEAPOLIS BATHROOM REMODEL CONTRACTORS
Bathroom Remodeling Company Minneapolis MN
Thinking of remodeling a bathroom in your home? Maybe you've been watching those HGTV specials and have some ambitious ideas for what your bathroom COULD look like with a little effort? A to Z Construction Inc. can help! We are one of the premier local bathroom remodeling contractors in the Twin Cities area, and we have years of experience in articulating your vision into the bathroom renovation of your dreams! 
From high-end faucets, glass-enclosed shower stalls to luxurious, sunk in tubs, A to Z Construction Inc. is the go-to bathroom renovation contractors to give you the bathroom oasis you deserve. Our bathroom remodeling experts work with the highest quality brands on the market today, and we have the professional expertise needed to provide you with the advice, craftsmanship, and service needed to accentuate your space and turn your bathroom into a true showpiece in your home.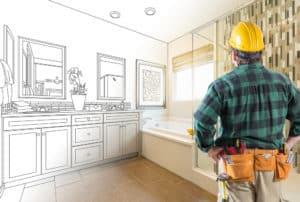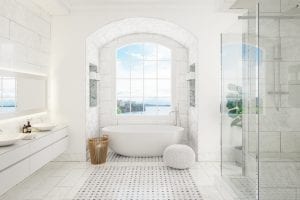 Local Minneapolis Bathroom Renovation Contractors
The bathroom renovation contractors at A to Z Construction Inc. know that bathroom renovations are one of the most rewarding remodeling investments you can make in your home. They not only add beauty and improve function to one of the most frequented and important places in your home, but they simultaneously add value and equity to your house. That's why we are proud to be one of the premier local bathroom renovation contractors in the Twin Cities metro area. A to Z gives bathroom remodeling projects the focused attention and detailed eye they deserve.
We take our role as your chosen bathroom remodeling contractor seriously. We will consult with you from the start, ensuring that all the ideas in your head are translated into a final renovation design that reflects your style and way of life. A to Z Construction Inc. uses only the highest quality bathroom renovation products on the market today to ensure your bathroom renovation provides you with years of luxurious relaxation for years to come.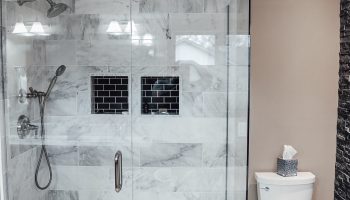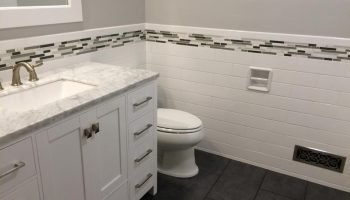 Bathroom Amentities
There are many factors to consider when designing and remodeling your bathroom. Below are some amenities that we have completed for our clients:
Curbless Showers
Heated Bathroom & Shower Floors
Handheld or RainHead Shower heads
Built in Niches and Shelves
Custom Shower Benches
Semi Frameless Glass Shower Enclosures
Sconces Lights, Over the Mirror and Can Lights
Swing and Sliding Shower Doors
Floating, Free Standing and Built In Vanities
Drop in, Vessel and Under mount Sinks
Our Bathroom Renovation Projects
Take a look through our past bathroom remodeling projects.
Why Choose A to Z?
We know there are many local bathroom remodeling contractors to choose from. What sets A to Z Construction Inc. apart from the competition is our dedication to quality, craftsmanship, and service. Since 2004 we have been one of the premier bathroom remodeling contractors in the Twin Cities because of our expertise, our commitment to only working with the best product lines on the market, and our unique ability to transform your ideas into a cohesive vision, resulting in the dream bathroom you've always wanted .
Our expert bathroom plumbers, remodelers, and designers undertake all the associated aspects of comprehensive bathroom installation, from consultation to execution. We take our role as your bathroom remodeling contractor seriously. Bathrooms are one of the most frequently used rooms and they are often the oasis for peace and comfort in your home. We work to ensure that the results are exactly as you envisioned and that they provide you with maximum enjoyment for years to come.
No matter what kind of bathroom remodeling project you have for your home, A to Z Construction Inc. can make it happen. Request a Free Quote today and we will help you get started. With us, your dream bathroom remodeling project is only a phone call away!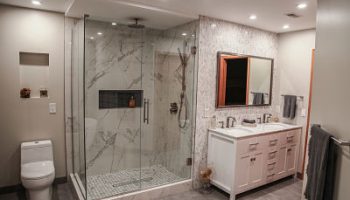 5 Year Workmanship Warranty
We Respond Promptly to Texts, Phone Calls, Emails & Form Submissions
We are Honest about All Aspects of the Project
We Educate Homeowners
High Rated Reviews on Third Party Websites
Everyone on our Team Meets Rigorous Craftsmanship Standards
Bathroom Remodeling FAQS
How can I best prepare for my bathroom renovation?
Get a good idea for the type of look and style you want. If you are unsure, build a vision board with clips from magazines, websites and Pinterest.
Contact Us for a free consultation and we will consult you on what is needed next.
Before construction begins, remove all of your personal items from your bathroom and clear the area. We will cover the surrounding areas to protect your furniture from dust.
Which features should I budget the most for?
Floor Tiles
Wall Tiles
Fixtures
Shower System
Say I sell my home, what type of return on investment can I expect from a bathroom remodel?
Typically, bathrooms get the best return on investment in a remodeled home. You can truly make substantial money when investing in a bathroom remodeling project. According to U.S. News, investing in a bathroom remodel yields a 62% return on average.
Should I re-glaze or replace my bathtub?
Re-glazing your tub can definitely seem like a great option. It requires less labor, it eliminates the cost of installing a new tub – it seems like a great way to save money. However, it does not last. You can expect the glaze to wear off within a few years and depending on usage, the tub may need to be re-glazed in as few as 3 years. In summary, replacing the tub is your best bet.
How long does a bathroom remodeling project typically take?
Every project varies, but you can typically expect the renovation to take between one to three weeks from start to finish.
Is there a difference between renovating and remodeling?
Renovating

Less invasive home makeover
Includes modest changes like sink or tub replacements

Remodeling

Ridding and replacing virtually everything
What is the best tile to use for my bathroom floor and shower?
This answer is entirely dependant on your personal preferences. In order to select the best option, ask yourself the following questions:
Does the bathroom receive a lot of light?
How much foot traffic will the bathroom receive?
Here are some options to consider:
Glass Tile:

Great for walls and backsplashes

Ceramic Tile:

Less expensive
Damper areas of the house

Porcelain Tile:
Stone Tile:
How much lighting will I need?
You will need more than a single ceiling fixture. It is important to have enough lighting so that you can shave, shower, and apply makeup comfortably. We recommend vanity lighting along with a secondary source of lighting for your shower area.
Why is replacing a tile shower so expensive?
This is because tile needs to be secured. The surrounding area will need to be treated in order to guarantee proper drainage and a tight water seal. While this initial expense is costly, it will prevent you from an even larger repair bill down the road.
I smell something funky coming from my shower. What is that?
This is a sign that a water leak may be causing a mold problem. The only way to fix this is to tear out and replace the shower. Absolutely do NOT do this yourself as there are health risks involved. If this is not the cause of the smell, an exhaust fan can help.
I'm new to all of this. How can I know which type of contractor to trust?
When you meet to discuss your plans for your bathroom remodel, a good contractor will provide quality input, conduct a thorough inspection, demonstrate knowledge of what is needed, and tell you what the options are. A bad contractor will take down your ideas, itemize the list, add prices and ask for your signature and your money. It is also important to choose a contractor who demonstrates knowledge of building technologies, products and code requirements.
How much does a full bathroom renovation cost?
Unfortunately, there are too many variables to give one definitive answer to this question. It is important to plan a budget for your project and communicate this with your contractor. A true professional will be able to work with what is best for both you and them.