Quality Local Roofing Contractor in Brooklyn Center, Minnesota

---
If you need a quality Brooklyn Center roofing contractor, A to Z Construction is the top choice in Minnesota. Our professional team has the expertise to handle any roofing job for your residential or commercial property.
See why we are the Brooklyn Center roofing company residents call on for all their residential roofing and commercial needs. With our free roofing estimate, free roof inspection, high-quality products, and expert services, we are the ones to call for all your Brooklyn Center roof repair and installation needs.
Roof Installation
We've helped countless Rosemount property owners install roofs and have the expertise to handle residential and commercial roofing jobs from the simplest to the most complex.
Roof Repair & Replacement
Roof Repair & Replacement
Whether your roof is buckled from the weight of old age or suffering from recent weather damage, our Rosemount roofing experts can complete partial or whole roof replacements quickly and affordably.
Emergency Roof Repair
When you're dealing with a leaky or partially collapsed roof, you can't afford to wait. Our Rosemount roofing experts can connect with you fast, assess the damage accurately, and handle your roofing problem in short order.
Our Brooklyn Center Roofing Services
A to Z Construction has been your trusted Brooklyn Center roofing company since 2004. Serving Minnesota residents for over 18 years has allowed our team of professionals to work with many varying styles and roofing materials.
If you want an expert installer that can handle your roofing needs, we offer professional services that include:
Asphalt roof shingles
Cedar shakes
Metal roofing options
Gutters
Soffit and fascia
You can trust the A to Z Construction team for all your Brooklyn Center roof replacement needs, no matter what materials you have in mind for the job. We will work with you to find the best solution to suit your needs and budget.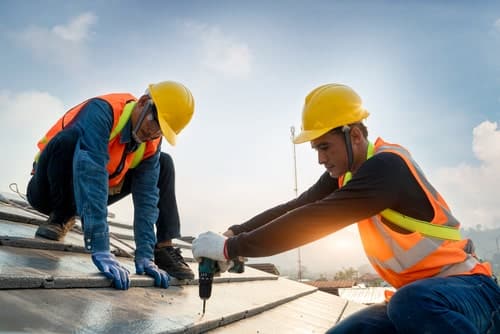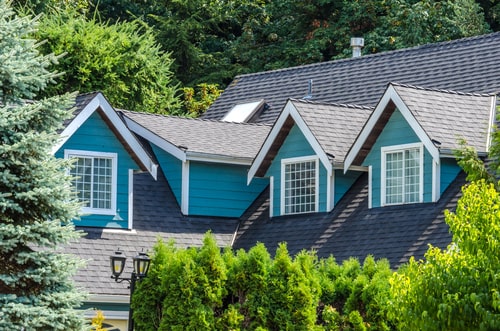 Expert Residential Roofing Services in Brooklyn Center
If you are building a new home or need to replace the roof on your existing house, look no further than A to Z Construction. As your local roofing contractor, they have years of experience and training to handle any Brooklyn Center roof replacement.
As an Owens Corning Preferred Roofing Contractor, A to Z Construction offers high-quality roofing materials with exceptional customer service and top-notch workmanship. We ensure that you are completely satisfied with your new residential roofing, whether it's an asphalt roof, cedar shakes installation, or metal roof for your home.

Step 2
Thoroughly review the roofing estimate to ensure there are no errors.

Step 5
You have a secure and well-installed Minneapolis roof.
Take a look at our past residential and commercial roofing projects.
Metal Roofing in Brooklyn Center
Metal roofing installation is becoming more common for Minnesota residents because of its many benefits. A to Z Construction is your trusted Brooklyn Center roof installation professional for metal materials. Just see how a metal roof can be better than other alternatives with these benefits:
Extremely durable
Energy-efficient
Inhibits heavy snowfall buildup
Effectively reflects UV rays
Commercial Roofing for Brooklyn Center Businesses
If you have any concerns with your commercial property, Brooklyn Center roofing contractor, A to Z Construction, is here to help. Our team of experts can take care of any roofing job, big or small, including:
Apartment buildings
Churches
Shopping malls
Townhomes
Cedar shakes roofing
Warehouses
And more
We know what it takes to coordinate sizable commercial roofing jobs. We will work with property managers, homeowner's associations, building managers, and business owners to find a suitable solution for all your roofing restorations and Brooklyn Center roof repairs.
Brooklyn Center Storm Damage Free Roof Inspections
You can count on A to Z Construction as your Brooklyn Center roof repair professionals when you have storm damage. We are familiar with the extreme weather in Minnesota and the disastrous after-effects it has, even on metal roofs and asphalt roofs.
We take the stress out of any storm damage repairs by working with your insurance company for any claims when your home or business suffers hail or wind damage.
So whether you have missing shingles or broken gutters, A to Z Construction offers free roof inspections for storm damage and free roofing estimates for any Brooklyn Center roof repairs. In addition, we communicate with your insurance adjuster, so you have your claim processed quickly and have your Brooklyn Center roof installation and repairs completed as soon as possible.
Trusted Local Roofing Company
If you need a Brooklyn Center roofing contractor you can trust, call on A to Z Construction. We are the top choice for Minnesota residents who need commercial and residential roofing repairs and installation.
We pride ourselves on offering excellent customer service and top-quality workmanship in all our projects, big or small. Our family-run business treats you like family, and you can be confident you are getting high-quality products, exceptional service, and top-notch work when you call A to Z Construction.
Excellent Customer Service
A to Z Construction is a Brooklyn Center roofing company that takes customer service seriously. We ensure that you are 100% happy with your project and understand what home and business owners require in a professional local roofing contractor.
We put your needs first, so you receive high-quality service in your Brooklyn Center roof installation every step of the way. From your first phone call for a free roofing estimate to scheduling your repairs and finishing the job, we want you to be completely satisfied with our services.
Excellent Workmanship
If you need excellent workmanship for your upcoming Brooklyn Center roof installation or replacement, A to Z Construction is the one to call. Our friendly staff has the training and background expertise to provide top-notch workmanship in everything we do.
Our experts ensure that we complete your installation, replacement, or repair job correctly and that the work area is safe from any potential hazards during the project and afterward. We treat you like family, leave our workspace clean when we finish, and help prevent yard damage from occurring during our time there.
Free Roofing Estimate and Inspection for Brooklyn Center Homeowners
Do you need a trusted local roofing contractor for your Brooklyn Center roof replacement? The experts at A to Z Construction are available to guide you through the process. We help take the stress out of insurance claims, dealing with storm damage, or upgrading your existing roofing system.
Trust the professional Brooklyn Center roofing contractors at A to Z Construction when you have roof repairs or replacement jobs in Minnesota. We can help you find the best solution for your home or business. We take care of you like family, providing excellent customer service, high-quality products, and exceptional workmanship in all we do.
Contact us today for a no-obligation, free roof inspection and estimate on all of your residential or commercial roofing needs.