Quality Roofing Contractor in Plymouth, Minnesota

---
Are you looking for Plymouth roof installation? A to Z Construction offers reliable construction, repair, and renovation services as your premier Plymouth roofing contractor. We are your trusted roofers in Plymouth, MN, offering a wide range of services that can help you improve the lifespan of your home, residential structure, or commercial building.
We're here to help you with installation, roof repair, storm damage repair, roof replacement, asphalt roof shingle repair, and much more! Our variety of services and our high level of expertise in the industry make us the top choice for homeowners in Plymouth who want to keep their houses aesthetic-looking, safe, and secure for many years to come.
Does this sound like what you need? Do you need to keep your house dry, safe, and energy-efficient with the help of the best Plymouth roofing contractor?
Professional Roof Replacement in Plymouth
As your trusted Plymouth roofing contractor, we offer residential roofing services and commercial roofing repair that can help repair or replace broken roof shingles and cedar shakes, patch holes in an asphalt roof, or replace the entire roofing structure to keep you safe during inclement weather. We ensure the roofing system, underlayment, flashing, and ventilation are top-notch.
Without a protective roof, homeowners will not have any type of security when it comes to storm protection, wind damage, and long-term use. Our professional crews ensure that we offer the best customer service and high-quality work for all Plymouth homeowners. Check out the perks of using this Plymouth roof replacement service for your home.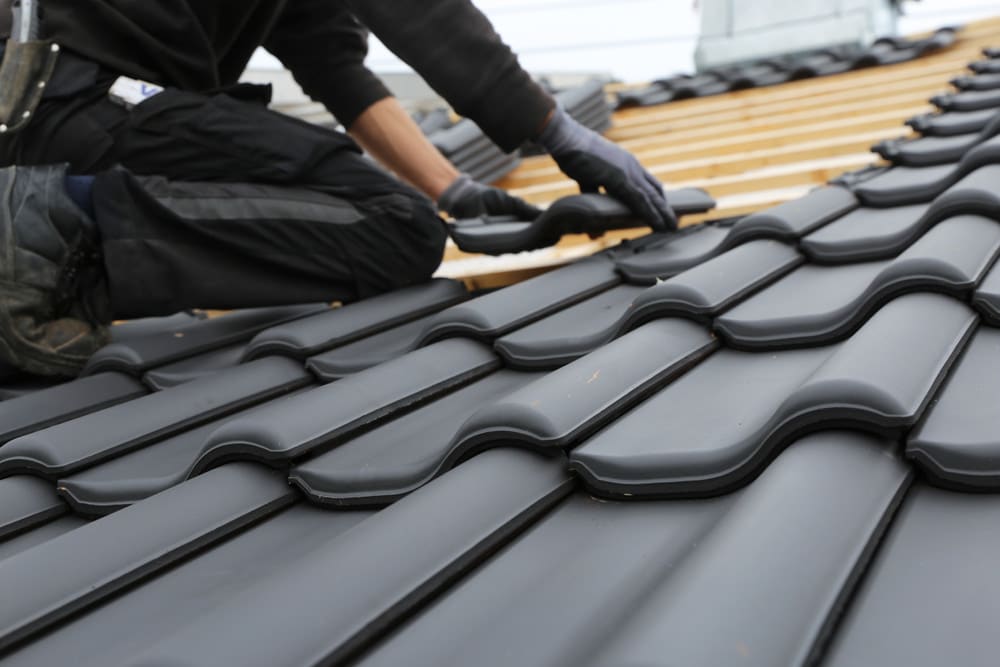 Expert Residential Roofing Services in Plymouth
We offer a variety of residential roofing services in Plymouth, Minnesota. Not only can we repair small holes in the roof or shingles or an asphalt roof, but we can also replace the entire roof, provide emergency roof repairs after a storm, and provide a gutter and siding inspection to confirm the safety of the home.
You can contact A to Z Construction today to receive an estimate, sign a contract, set a date for the work to be performed, and then sit back, relax, and wait for your new roof to be finished by the best Plymouth roofing company! We tackle all of your Plymouth roof replacement needs so that you can have peace of mind with your home.

Step 2
Thoroughly review the roofing estimate to ensure there are no errors.

Step 5
You have a secure and well-installed Minneapolis roof.
Take a look at our past residential and commercial roofing projects.
Metal Roofing in Plymouth
You don't need to worry about getting a roof that can do everything: a metal roof ticks all the boxes. Metal roofs are durable, long-lasting, and give a pleasing aesthetic. Homeowners who have townhouses or homes prone to weather damage can take advantage of metal roofing to help with protection, energy efficiency, and extreme weather.
Our metal roofing services include free roofing estimates, metal roof repair, replacement, and Plymouth roof installation for homes across the Plymouth, MN area. As the top Plymouth roofing company, we have an A+ rating with the Better Business Bureau and contain a 5-star rating on both Houzz and Yelp for our Plymouth roof replacements!
Commercial Roofing for Plymouth Businesses
Homeowners aren't the only ones who can use our reputable and trustworthy services. As your premier Plymouth roofing company, we also offer commercial roofing services to businesses throughout the Plymouth area. We can tackle a variety of projects and sizes, ensuring that your business can reap the benefits of our timely, cost-efficient, and professional offerings.
As the top Plymouth roofing contractors, we work on different buildings, including apartments, homes, condominiums, townhomes, warehouses, churches, and much more for our Plymouth roof installations. Contact us today to learn more about commercial flat roofing repair, commercial roof repair, roof replacement, cedar shakes repair, and new roof construction for your business in Plymouth. We include a free roof inspection, so you know what state your roof is in.
Plymouth Storm Damage Roof Inspections
As seasoned local roofing contractors, we know that accidents happen, especially to relatively fragile things like cedar shakes. Plymouth, Minnesota, is known for having storms throughout the year, ranging from tornadoes to wind storms. Make sure you are prepared for whatever may happen by using the storm damage roof inspection services provided by A to Z Construction.
Not only will this give you better peace of mind, but you can ensure that your home's structure is durable, long-lasting, and efficient for protection against hail, wind, rain, and snow.
Trusted Local Roofing Company
Need a Plymouth roof installation with a free roof inspection? We are your trusted local roofing contractors who offer reputable services at low prices to homeowners and business owners in the Twin Cities area since 2004. As the best Plymouth roofing contractors, we provide those in Plymouth, MN, with a variety of services, such as home restoration, roof repair, shingle installation, home inspection, and much more.
We have years of knowledge and expertise in the industry, providing homeowners with peace of mind and safety when it comes to their choice of roofing contractor.
Excellent Customer Service
We provide excellent customer service because we believe in one thing — putting the customer first. Your safety and security are our #1 priority at this reputable Plymouth roofing company.
Excellent Workmanship
We set very high standards for ourselves — we only provide high q-auto york to homeowners and business owners, ensuring our work is long-lasting and top of the line. Whether you need a few shingles replaced or an entirely new roof, we can do it all.
Free Roof Estimate and Inspection for Plymouth Homeowners
Contact us, your local roofing contractors, to get a free roofing estimate and free roof inspection. Not only can you save money with this free estimate, but it can give you an idea of what you may spend in the long run. We make it easy for you to prepare for your roof repair, so there are no surprises or hidden fees.
Are you in need of a roof repair or renovation from a Plymouth roofing company? We are the premier roofing contractor in the Plymouth area, offering quality workmanship, high levels of customer service, and numerous years of expertise to homeowners and business owners.