How long does a bathroom remodel take? That depends on how much work you're having done and what choices you make for the renovation process. Ultimately, every bathroom is different, so there are no fixed timelines.
At A to Z Construction, we can estimate some timetables based on common choices homeowners in Minnesota make when picking us as their go-to for expertly crafted bathroom renovation.
Average Bathroom Remodel Timeline
The average bathroom remodel timeline, including many from A to Z Construction, take between three and six weeks. It's broken down into several stages and includes the time necessary for ordering supplies, getting permits, and letting work set in place.
A typical bathroom remodel will take at least four weeks, so anything below that is usually a simple job. Larger spaces, and projects involving extensive renovations and decorating, can take more than six weeks.
For example, if you're remodeling a shower, that's going to go a lot faster than redoing an entire space, from the insulation to the plumbing.
Stages of Bathroom Remodels
How long does a bathroom remodel take if you plan it out? Most remodels go through three specific stages.
Pre-Construction
The pre-construction phase of a bathroom remodel project involves hiring contractors, selecting and acquiring materials, creating construction plans, and getting permits.
This part of a bathroom remodel can have varying timelines. Some homeowners prefer to evaluate options for renovation, while others request specific elements or materials that could take a while to acquire.
Pre-construction ends when plans and permits are approved, all materials are available, and the contractors are ready to start working.
Construction
The construction phase is where most of the work gets done. Most bathroom renovations involve removing the old parts of the room and replacing them with new elements as appropriate.
Depending on the type of bathroom remodel, you might put in new drywall, add tiles, replace a shower or bathtub, install counters, flatten surfaces, and paint.
Construction is a methodical process that has no set-in-stone timeframe. For example, installing a tub depends on structural components drying, and contractors can't work while that's happening.
Post-Construction
The post-construction phase occurs after all the work is finished. Here, you'll get a comprehensive explanation of everything that happened with your bathroom remodel project, along with the final thoughts from your contractors. After payment is finalized, the job is done.
Factors Affecting Bathroom Remodels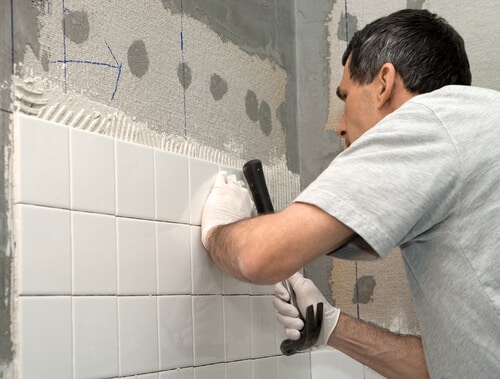 Here are some of the factors that can affect your bathroom remodel timeline.
Complexity
The more complicated a bathroom remodel is, the longer it takes. That is especially true if you're installing intricate or decorative components, as they often take much longer than simple parts.
Financing
Many homeowners use home loans, lines of credit, or other sources of financing to pay for a bathroom remodel. You may need to wait for a financial institution to approve the loan. A to Z Construction has a variety of financing options available for your convenience.
Material Acquisition
Some materials for a bathroom remodel, like insulation and drywall, are usually easy to acquire and have no meaningful effect on the timeline.
However, certain tiles or fixtures can extend the timeline depending on availability. For example, if you want to order a custom cabinet for your sink, you'll have to wait for the cabinet maker to build it. Once that's done, you might need to arrange for delivery if it can't be picked up and brought to your house by the bathroom remodeling team.
Permits
Permits can be essential for the bathroom remodel process, as you'll likely need city approval to do the work. Contractors can submit permit requests for you, but the government ultimately controls how fast these go through.
Approval lengths can stretch beyond eight weeks, depending on circumstances and the time of year. There's not much you can do about this except to be patient.
Part of the permitting process for a bathroom remodel requires inspection by the city. When this happens, all work stops until the inspector confirms everything is up to code. Inspectors usually arrive within a few days, but contractors can't guarantee a timetable for this.
So, how long does a bathroom remodel take? In many cases, permits and inspections are one of the slowest parts of the process. The sooner you get them done, the better.
Reinforcement
Some bathroom renovations require reinforcing the house to support the changes. Reinforcements may include adding structural support, changing the flooring, or adjusting the walls to hold tiles better.
Repairs
Nobody wants to deal with unexpected issues during a bathroom remodel, but sometimes we open up the walls and find that you need more work. Issues like mold, faulty pipes, or structural damage can require repairing your home before renovation.
Some problems are invisible until being revealed by the bathroom remodel. Our team works hard to minimize the impact any surprises might have on your timeline.
Season
Renovations are often seasonal jobs, with buyers preferring to have work done in spring or summer. A bathroom remodeling timeline can change depending on how many projects your contractor is handling.
Choosing the off-season could cut weeks from your renovation timetable as there's usually less competition.
Upgrades
Beyond repairs and reinforcement, some homeowners want upgrades to support the bathroom remodel. That can include installing new water heaters or running bigger pipes to support higher water flow for complex showers.
Most of these projects are relatively straightforward and don't add more than a few days to the timeline.
Call Us Today for Your Perfect Bathroom Remodel
We've answered the question, "how long does a bathroom remodel take?" Now it's time to make your renovation dreams a reality. If you're looking for a fast, affordable, and high-quality bathroom remodel in Minnesota, A to Z Construction is ready to lend a hand. Our experienced team members can help make a plan, get the permits, and do the work to give you a magical bathroom sanctuary.
Once we know what you want, our team can also give you a bathroom remodel timeline. We've worked on countless homes and are proud to offer free estimates and professional design consultation for all clients.
Contact A to Z Construction today to learn more about your bathroom remodel options.