The roof is one of the integral parts of your home and keeps your possessions protected and safe. While many homeowners use asphalt shingles for their residential roofs, metal roofs are also becoming a trend these days for many good reasons. According to industry experts, metal roofs are more energy-efficient, come with a longer lifespan and have a lesser impact on the environment. But a poorly installed metal roof may not last longer than you expected. This is the reason, you must hire professional roofers to get the job done efficiently.
Reasons to Hire Professional Metal Roofing Contractors
There are many reasons you need to hire professional metal roofing contractors for your roofing project and some of them are listed below in this article.
Metal Roofing Installation Requires Special Techniques
Metal roof installation is quite different from roof shingles installation. Metal roofs are not the same as other roofing systems and require special techniques to be installed properly. And if you hire general roofers to install a metal roof, they may not be experts to complete the job capably. This is the reason, hiring professional metal roofing contractors is always a good idea to get your metal roof installed as it should be. They are equipped with all the essential techniques and tools to complete the project without facing troubles and workplace accidents.
Ensures the Longevity and Quality of Your Metal Roof
Regardless of the roofing systems, materials are not cheap. Some roofing materials are less expensive than others but overall roofing costs are a huge investment throughout life. Experts say that metal roofs are to last for 40 to 60 years. The installation process can also have a direct impact on the longevity of your metal roof. When installed improperly, metal roofs can cause expensive repairs and damages. Therefore, you must work with the right professionals to get the job done as planned. Professional metal roofing contractors are more of an investment and can make your roof last longer.
Concerns with Safety Are Mitigated
Safety is one of the major concerns when it comes to roof installation. Risks of accidents and damages are higher when you try to install or repair metal roofs yourself. Certain tools and specific installation techniques are required to complete the job successfully. But you may not have enough skills and necessary tools to do it yourself.
Accidents happen during roof installation projects and can cause several injuries and damages to the properties. It is challenging for an inexperienced person to focus on the installation while still trying to avoid falling off the roof simultaneously. Professional metal roofers are insured and equipped with essential safety gear and tools to do the job without facing accidents. Since they are insured, they are better able to cover on-site injuries and property damages in case anything unfortunate happens. So, make sure to hire properly licensed and insured metal roofing contractors for your next metal roofing project to avoid unnecessary expenses and on-site accidents.
Ensures the Metal Roof Lasts
Since metal roofs are sturdy and can last longer, they must be installed properly with help of the right tools and techniques. Hiring expert metal roofers is the only way to make sure your roof is installed properly for an extended span of life. When you choose to DIY metal roofing installation, you might end up paying lots of money (in terms of repairs or replacements) in the long run. Professionals ensure that your metal roof lasts longer and is well maintained for increased endurance. This also helps you make sure you get the best services that are worth your money.
To Avoid Collateral Damage
As it is mentioned earlier, installing a metal roof yourself can compromise the quality and endurance of your roof. Some people also hire general roofers for metal roofing installation to save some bucks on the installation process. General roofers might have years of experience in general roofing installation and replacements, they might not have enough expertise and knowledge on how to install metal roofs skillfully. Improper installation can end up with issues like water damage and leaky roofs etc. That's why; you should hire licensed metal roofing contractors like A to Z Construction Inc which specializes in metal roof installation and replacement. They are licensed and insured to keep their employees and your property safe from damages.
Faster Project Completion
Professional roofers with years of experience are better able to install or replace metal roofs faster than DIY enthusiasts or general roofers. They not only offer their services with better industry knowledge but are also equipped with all necessary tools and safety gear to do the job in the best way possible. Inexperienced individuals or general roofing contractors take more time to install metal roofs because they lack the essential skills and expertise for perfect metal roof installation. Along with installing a metal roof accurately, they also help you maintain metal roofs for increased longevity and durability.
Quality Work
Quality comes with perfection. When you hire professional roofing contractors with specific skills and experience in metal roofing, they are better able to complete the installation process faster without compromising the quality of work. They are passionate to make sure the clients are delighted with the quality of work. Therefore, they use the right tools, roofing materials, safety gear, and techniques to install or replace metal roofs capably. This not only completes the work in a timely manner but increases the longevity and endurance of the roof as well.
Wrapping Up
Roofing is one of the major investments and you cannot afford a single mistake. Choosing a metal roof for your personal or commercial property is a good choice as it lasts longer and is energy efficient as well. Hence, it is also important to hire metal roofing contractors instead of hiring general roofers to get the project completed in a timely manner without compromising the quality of work. So, spend enough time choosing the right metal roofers for your next project. If you need metal roofing services in twin cities MN, feel free to contact us for a free quote or estimate or call our experts for consulting.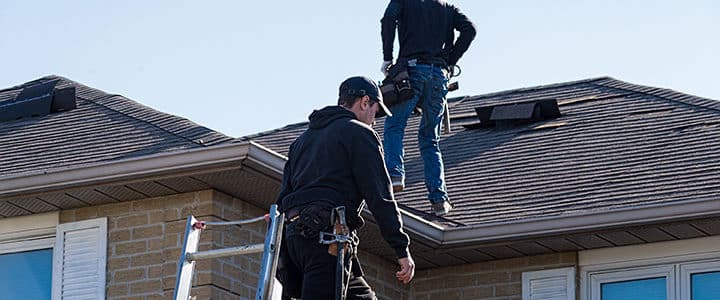 Your roof is a complex system. Once a tree limb has torn through your home's shingles, you may have several different reasons for concern. For example, different types of weather can expose your home to damaging elements that impact the integrity of your roof. Storms can create leaks, damage flashing or gutters, and affect the structural integrity of your roof.
While you may not be able to prevent damages from inclement weather, there are steps you can take after a storm to protect your home before another one rolls in.
At A to Z Construction, we understand that storms happen. When they do, our roofing contractors are here for you every step of the way. We work with homeowners throughout the Minnesota area to provide a full spectrum of storm damage inspection and repair services. We want to make sure that your roof is repaired before the next storm rolls in so that we can return your home or business to normal as quickly as possible.
In this article, we'll talk about what to expect during a storm damage inspection and how it will benefit you in the long run. We'll also talk about why you need the assistance of a storm damage professional.
But first, let's cover the basics.
How Can a Storm Damage Your Roof?
When a storm passes, it's not just the high winds and rain that can damage your roof. Storms can be damaging in other ways too, such as:
Feather Tree Branches
High winds may uproot trees. If these trees fall on your home's roof, they could cause significant damage. Feathery tree branches that catch the wind can severely damage your roof as well.
Storm Surge and Flooding
Did you know a strong storm surge or flooding can increase the force of the water on roofs? A breaking wave will push a wall of water toward land, which often includes anything in its path – including your home's roof. Flooding can also cause internal damage like warped floors, walls, and ceilings which may need to be attended to.
Severe Winds
High winds can damage your home's roof in several ways. If the wind is strong enough, it could peel back shingles or even tear them right off your home's frame. High winds can also turn your roof into a sail that's pushing your home in the opposite direction.
Ice and Snow
Snow and ice can also cause significant damage to your roof. If snow piles up too fast or melts and refreezes during winter, it can put tremendous pressure on your entire roof structure. Maybe you've heard of the term "snow load," and that's what we're talking about here.
Hail Damage
Hail can damage your roof too. The hail size doesn't necessarily matter; most homes' roofs aren't built to withstand such a beating.
While all of this is scary, don't panic. You can take proactive measures to help protect your roof and avoid additional damage.
The Inspection Process During the Wake of a Storm
Now that you know what can damage your roof during a storm, let's discuss what to expect during an inspection.
At A to Z Construction, we use infrared cameras and moisture inspections as part of our regular checkups for our customers. These tools help our roofing pros diagnose problems that may not be so easy to spot when walking around on your roof.
In addition, we'll check your gutter systems for any damage or clogs when inspecting your property after a storm. Our team will also walk over the exterior of your home in search of anything that might disrupt the structure. We ensure our work is efficient, fast, and 100% free of damage to your foundation or yard.
After recording all the findings, we'll present you with a detailed report and go over it with you – answer any questions you may have about what was found and how it could affect you in the future.
After reviewing this report, our team members will offer the necessary repairs to restore your home to its pre-storm condition.
Why You Need A Professional For Your Storm Damage Inspection
A storm damage inspection is definitely something to be concerned about. But why should you trust your home's roofing assessment to an experienced and professional team like the pros at A to Z Construction?
Experience
Having worked with homes throughout the Midwest, we know what signs to look for. Using top-of-the-line infrared cameras and moisture detection technologies, our inspection process is thorough. However, don't just take our word for it – check out some customer reviews to find out why people come back over and over again.
Quality Assurance
At A to Z Construction, we believe in doing things right the first time around. We carefully document and measure all of our findings to ensure a quality roofing inspection every time.
Attention to Detail
While the wind is rattling your windows, you won't have time to focus on what's going on with your home's foundation or exterior. That's why we'll walk over to your property after the storm to make sure everything is in order. If we find anything, our team will let you know right away.
Why You Need The Inspection After a Storm
Protecting Your Investment
Your roof is one of the most essential components of your home. It can impact your energy efficiency, your resale value, and even the comfort of your living space. That's why you should consider investing in a seasonal storm damage inspection by an expert like A to Z Construction. These inspections help determine if there are damages to be fixed, and they also help you prevent future problems with your roof.
Understanding Your Roof's Condition
Moisture inspection is one of the most essential components of a storm damage inspection. This tells your roofing company if there are any leaks or issues with your gutters to attend to. If your roof is leaking, you may not even know about potential damages under the surface. Your inspection will point these out, so they don't become a problem later down the line.
Contact A to Z Construction Today
An ounce of prevention is worth a pound of cure. That's why it's so important to have an expert roofing company inspect your home after a storm passes. For quality services and peace of mind, rely on the pros at A to Z Construction. We are available to help you 24 hours a day, seven days a week.
Contact us now to receive your free quote for an assessment of your home's roofing, foundation, and exterior.

Siding is one of the most important features of the exterior of a house. It is responsible for:
Protecting your home from animals, harsh weather, and intruders.
Adding structural support and insulation to your home.
Determining the overall look of your house, making it stand out or look unsightly in the neighborhood.
Over time, your siding may start to show signs of damage. It may give way to water or animals that can cause severe problems inside your house. They may even affect the structural integrity of your home if left unattended for too long. When this happens, you will need to fix the siding and also any related issues, which can be quite costly. Therefore, you need to know when your siding needs to be replaced.
At A to Z Construction Inc., we offer quality siding installation and replacement services. We know how important it is to get the job done right. That is why we want you to learn how to recognize when your siding needs replacement to get it done before it leads to further destruction of your home.
Indicators That You Need To Have Your Siding Replaced
Cracks
Small cracks on the surface of your siding are normal. They can happen when you attach different parts of your siding together. However, if the crack is bigger than an inch or more, it may not handle harsh weather conditions effectively. You need to replace the affected part before it's too late, especially if you live in an area that experiences intense weather.
Mold and Mildew
Another common issue is the appearance of mold and/or mildew on your siding. While this can happen during rainy seasons, you need to act quickly if there are signs of mold growing inside your house. This is due to moisture seeping through cracks or holes in your siding. Mold can cause respiratory problems for you and your loved ones. If left unchecked, it can also cause structural damage to your home.
Warping
Your siding can warp due to prolonged exposure to sunlight or rain, especially if it's made from materials that do not have the required levels of durability. In addition, warped siding does not offer protection for your house and only makes it more difficult to fix any related problems. If your siding has already warped, it's time to replace it with more durable materials.
Holes and Loose Areas
Holes and other defects in your siding can be dangerous for you and your family. They could attract insects that live outdoors or cause water damage to the walls of your house. In addition, it will not be able to withstand strong winds and rain.
Age
While it's normal for your siding to show signs of wear and tear, you need to determine whether they can last longer. You should replace your home's siding if it is more than twenty years old because the materials used to make them may have become brittle over time. You also need to consider that your house may have undergone structural changes over the years. This can affect how your siding is installed and attached to your house.
Paint Peeling
One of the biggest signs that you need to replace your siding is when the paint starts to peel off on some areas. Over time, the paint may become brittle due to exposure to various elements such as heat and water. Your siding may not be able to withstand these elements without the required coating. In addition, peeling paint can spread to other parts and damage them as well.
High Utility Bills
If your siding is not properly installed, it can cause heat and cold to seep into your house. This can significantly reduce or increase the temperature inside your home, which means that you will incur higher utility bills in the long run. In addition, if water gets through cracks or holes in your siding, it may affect the heating and cooling system in your house.
High Maintenance Costs
If your siding constantly needs repairs, it's time to consider replacing it. Repairs can only do so much, and you cannot avoid the need for replacement. You will continue to make repairs until your siding is no longer useful, which means that you will spend more money in the long run.
Damage to Your Foundation
Your foundation plays an important role when it comes to your house's structure. If your siding is not installed properly, it could affect the foundation and affect your house's overall stability. You can identify damage to your foundation by cracking or sinking walls, doors that no longer align properly, and visible cracks on the floor.
Rotting Wood
Your siding is attached to the walls of your house. If there are cracks or holes in your siding, water can get into these areas and cause the wood to rot. Rotten wood can cause serious injuries if stepped on because it is weak. In addition, it can attract termites, which may cause even more damage to the structure of your home.
To avoid these problems, you need to determine whether you need to replace your siding with a more durable material or hire a professional to look for damage and fix it. Whether you choose the latter option or not, make sure that you watch out for any signs of deterioration.
Why You Need a Professional To Replace Your Siding
You may think that replacing your siding is not a big deal. You only have to buy the necessary materials and get it done in a few days. However, you need to understand that your safety may be at stake if you decide to do this without professional assistance.
Professional siding contractors know how to install new siding correctly and in accordance with local building codes. They also know how to determine which materials will be the best for your home and environment. A contractor can help you decide whether it is better to repair cracks and holes or completely replace them with a new siding.
If there are any problems that need immediate attention such as water leaks, they can ensure that your foundation is properly protected and that your siding is properly secured. In addition, a contractor can recommend the best materials to use to extend the life of your home's exterior wall.
Contact A to Z Construction
At A to Z Construction, we have the experience and expertise you need to ensure that your siding is replaced perfectly. We replace all types of damaged materials, whether they are made of metal, wood, or vinyl. As part of our service, we also provide roofing repair and a variety of other services that can benefit your home's exterior.
For more information about our services, contact us today.