A roof can last decades. Unfortunately, problems could happen at any moment, which means it might be time for a roof repair or replacement.
Repairing a roof is the cheaper option but not always the right choice when deciding between roof repair or replacement. Sometimes the damage to your home is too devastating, or it's time to upgrade its appearance.  A new roof installation is the best way to resolve these situations. 
As a homeowner, should you repair or replace your roof? Below, we'll cover everything you need to know before you repair or replace a roof.
Signs You Need Roof Repair or Replacement
Is it time to repair or replace roof shingles? Here are factors to consider when deciding between roof repair or replacement.
Age of Roof
The average lifespan of a roof ranges from 25 to 50 years. Should you repair or replace your roof? If your roof is reaching this age or you're nearing the end of its warranty, you'll want to consider roof repair or replacement. 
Roof Leaks
A leaky roof is dangerous and can ruin your home, so should you repair or replace your roof? It's also a health hazard as mold and mildew can grow. From water stains on your ceiling to damaged insulation, a leaky roof needs roof repairs as soon as possible.
While contractors can fix small leaks and damage, large leaks may require a new roof replacement. Ask your trusted contractor which is better for your leak: roof repair or replacement.
Roof Damage
Whether you are missing a few shingles or a tree damaged your roof, you need to repair or replace your roof quickly. Here are some different types of damage to keep on the lookout for when you're deciding between roof repair or replacement:
Aesthetic Roof Damage
Aesthetic roof damage is damage that does not affect the functionality of a roof. Hail damage, missing shingles, or worn-out shingles are common aesthetic roof problems. Contractors can easily repair aesthetic damage without replacing a roof.
Structural Roof Damage
Structural damage is damage that reduces the integrity of the roof. This type of damage is often caused by storms and is very serious. The more damage, the greater chance your roof needs a replacement as soon as possible.
Weather and Climate
Do you experience extreme weather in your hometown? If so, it's better to seek storm damage roof repairs immediately after a storm to prevent leaks and structural damage to your home. 
Hail storms, falling tree limbs, and extreme winds can devastate homes, and even a few missing shingles can grow into a major problem, so take that into consideration when discussing roof repair or replacement.
Roof Replacement Cost
Replacing a roof is always going to cost more than repairing a roof. But, if you continually repair your old worn-out roof, you might be wasting your money, so think carefully about the pros and cons concerning roof repair or replacement.
While purchasing a new roof does have more upfront costs, your home gets the protection it needs, and you'll need minimal repairs for another 25-50 years.
How Long are You Planning to Stay in Your Home?
Are you planning to move soon but are stuck between whether you should repair or replace your roof? You can save money by repairing a roof instead of replacing it. However, if your roof is old, rundown, or has extensive damage, you might want to think about roof replacement to attract buyers.
Typically, if your roof is in a poor state, no matter how long you plan to stay, there's little debate about whether to go for roof repair or replacement: choose replacement.
When to Get a Roof Repaired
When should you get your roof repaired instead of replaced? Homeowners should consider the cost of a new roof and how old their current roof is when picking between roof repair or replacement. After you have a budget, it's time to evaluate your roof's damage and see if it's worth repairing or replacing.
If you're really struggling to decide whether or not you need a roof replacement or repair, you may want to have a roofing inspection to understand the true state of your roof.
Roofs With Minor Damage
If a roof has minor damage, it's normally best to repair the roof. Below are some of the most common reasons to repair a roof instead of replacing it.
Light wind damage
Missing, blistering, or torn shingles
Moss or mold growth on the roof
Damaged gutters
Light hail damage
Dented tiles or metal roofing components
Roofs With Moderate Damage
Roofs that received moderate damage can also be repaired. If the damage is concentrated on one area of the home, it may be cheaper to repair the damaged section instead of replacing the whole roof. However, if the damage is spread out across the whole roof and you're picking between roof repair or replacement, it may be wiser to replace the roof entirely.
Cons of Roof Repairs
If you have an older roof, the contractors may find it difficult to color match your tiles. While this won't harm the roof, it can ruin the appearance of your roof.
After several repairs, older roofs tend to look sloppy or pieced together. Additionally, the unevenness and color differences can affect the curb appeal of your home, so bear that in mind when choosing between roof repair or replacement.
When to Get a Roof Replaced
It can be challenging to know when to replace a roof. Other than damage, some homeowners replace their roofs to improve the home's curb appeal and value. If you're considering roof repair or replacement, you need to look at the following factors.
Moderate to Extreme Damage
Storm damage is one of the biggest reasons to replace a roof. Sometimes the damage to a roof is far beyond the point of repair. You'll need to replace the roof instead.
Also, homeowners who don't repair small repairs may soon find themselves needing a whole new roof. As more and more tiles are damaged, the roof can suffer structural damage that requires a new roof installation.
Aesthetics and Curb Appeal
A new roof can instantly upgrade the aesthetic and curb appeal of a home. Whether you want to change the color or style of your roof, a new roof is a perfect opportunity to improve the appearance of your home.
It Makes Selling a Home Easier
A brand new roof is one of the best ways to get buyers interested in your home. Unfortunately, new roofs are expensive and you may end up losing money by installing a new roof. According to a 2019 study, replacing a shingle roof before selling was only a 68.2% return on investment. Make sure to do your research before considering roof repair or replacement and talk to local real estate agents to learn more about your area.
New Roofs Are Highly Efficient
Are your energy bills through the roof? You may want to lean towards roof replacement when picking between roof repair or replacement.  Modern roofing materials are highly energy efficient. New roofs are great at keeping heat out during the summer and in during the winter, and they can also reduce drafts in a home. 
Switch to Solar Energy
Replacing a roof gives homeowners the perfect opportunity to switch to solar energy. Solar roofing lets homeowners save on their energy bills while building a sustainable future. Solar roofs also grant homeowners tax write-offs that can save them thousands of dollars as well.
Repair or Replace Your Roof With Us Today!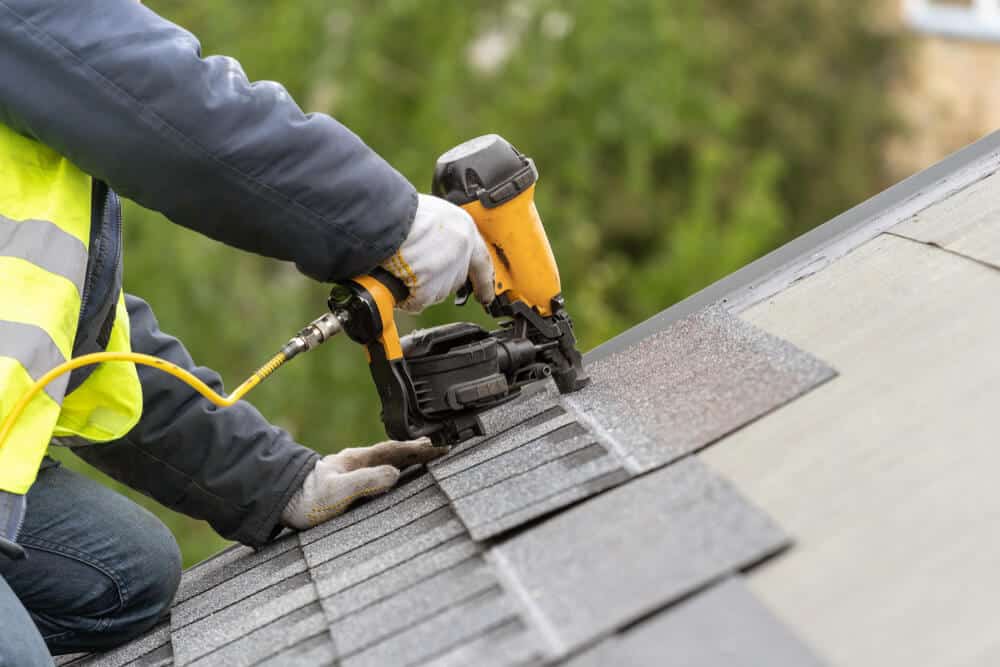 Are you ready to repair or replace your roof? The contractors at Perfect Exteriors are ready for the job. If you are ready to get started on your next roof repair or replacement project, then contact us today for a free estimate.