Remodeling a bathroom is not only a chance to upgrade features but also a cost-effective way to boost your home's value. However, many homeowners view a project like remodeling the shower as a huge ordeal that is costly and time-consuming.
Just how big of a deal is it to remodel your shower? What is the shower remodel timeline like? How long does a shower remodel take? In this article, we'll go over the average timeline of a shower replacement, including the different stages of the project.
What Is the Timeline for a Shower Replacement?
If you have roommates, children, or a large family, having bathrooms fully accessible is critical. We understand that having a bathroom become out of service while a shower remodel is taking place can be stressful and massively inconvenient. It's essential that you, as a customer, are on the same page concerning the timeline of your shower remodeling project.
So, how long will the shower replacement take? That can be a tricky question to answer depending on the availability of materials and materials used. However, most shower remodel timelines are typically a month long from start to finish.
Some basic shower remodels can be completed in as little as three weeks, and bigger projects can span up to 7 weeks or more. Thankfully, our team at A to Z Construction is skilled and knowledgeable when it comes to bathroom remodeling.
Stages of Shower Remodeling
To further understand the shower remodel timeline, let's break down the project stage by stage.
Evaluation and demolition. This is the first step to getting the project going. A staff member will arrive onsite and evaluate the current state of the bathroom. Structural beams and walls will be noted, as well as any walls you would like removed. If mold or asbestos is discovered during the evaluation, plan for an extra delay to ensure it is properly removed. If everything goes smoothly, your old shower and parts will be removed. Expect this state to last under a week.
The "Rough-In." During the "rough-in", it's essential plumbers, and electricians work together cohesively to deliver the best shower remodel possible. At this point in the project, plumbers will work on the respective plumbing locations on the floor and walls in the shower. Electricians will ensure the wiring is configured. This stage should last 1 or 2 days.
Tiling bed and wall working. This stage lasts 1 or 2 days to prepare for tiling. A tiling bed, or a cement slab, is installed and must dry completely. Walls must also be prepared and often need straightening and other adjustments.
Sheeting and waterproofing. Now that the walls have been prepped, our team is ready to sheet the walls and ceilings for your future shower. Once that is complete, we waterproof the entire area to prepare for functionality. Typically this can all be accomplished in a day.
Additional waterproofing. To ensure your shower space becomes fully functional, we need to apply 2 or 3 coatings. Each coat needs 24 hours to dry to ensure the area is sealed from water damage. When done by an expert team, this process extends the life of your shower for many years. This stage of the project takes 2 or 3 days.
Tiling. This is one of our favorite parts of the shower replacement project and really makes it feel like the end is near. The tiles are cut and placed in the new shower area on the day of the renovation. Depending on how large the space is, this part of the project can take the better part of the week. Usually, it takes about five days.
Grout and tile finishing. The last part of the tile job can take 1 to 2 days to finish. During this stage, grout is added, as well as silicone, to strengthen the jointed areas.
Plumbing connection. The end is near! The plumber can now return and connect all the plumbing and ensure everything is in working order. Expect 1-2 days.
Electric connection. After the plumbing is complete, the electrician can come in and make sure all of the electric components of the new shower space are in working order. Expect 1-2 days here.
Clean up and accessories. The last 1-2 days are spent cleaning up the work site and installing any additional accessories the customer has requested.
Factors That Affect How Long a Shower Remodel Can Take
So, how long does a shower remodel take? Several factors can affect how long you can expect the job to take. Let's take a look at the most common below.
What are you replacing your current shower with? Popular options include walk-in showers, tub/shower combinations, and adding spa elements. As expected, the more drastic the remodel is, the longer the project will likely take.
How much demolition is necessary for your remodel? If you want to open up the bathroom space and tear down one or more walls, this will increase the project time.
What materials do you want to incorporate? Some materials can take a while to order. Keep this in mind when ordering tiles and special shower heads.
What about unforeseen circumstances? Several factors can speed up or slow a job down. Here at A to Z Construction, we strive to keep strict deadlines. However, unforeseen circumstances like bad weather, delayed materials, or illness can delay a shower replacement project.
Scheduling Your Shower Renovation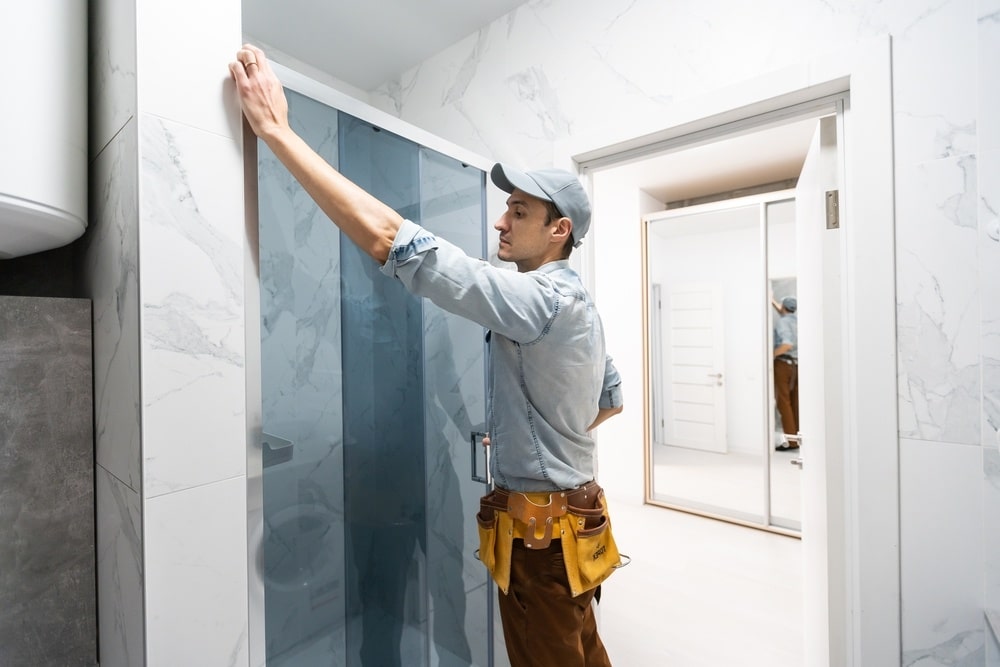 The reality is this: a shower renovation will likely take a few weeks. We understand that no one likes a bathroom to be out of operation, so we do our best to stick to the schedule and do a quality job promptly. A fresh new bathroom boosts your home's value, and showering will become a luxurious, self-care experience! 
We've completed some fantastic renovations that elevate the space entirely. Because we put so much pride into our work, we've earned rave reviews from our customers.
The sooner you contact us to schedule your first consultation, the sooner you'll be to the shower of your dreams. Contact A to Z Construction today to get started.