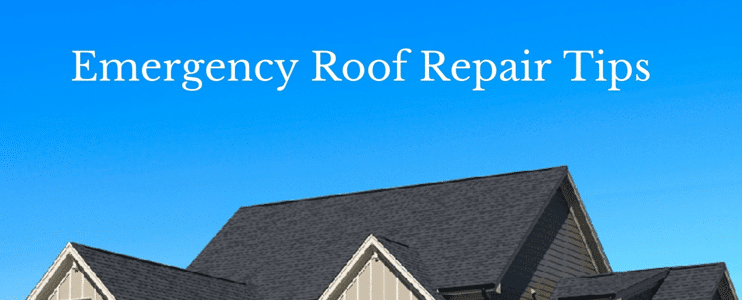 A strong roofing system is one of the integral features of any home. It protects you, your possessions, family, and everything inside the home. It is also known as the very first line of defense against weather conditions and hazards like storms, hails, stormy winds, and extreme temperatures. Since roofs are always exposed to extreme weather conditions, this weakens their quality and reduces the life span with time. In some situations, you may also need to conduct some emergency roof repair tasks to avoid major damages and harm.
Roof repairs can be costly and time taking as well. And keeping a roof well maintained is the best way to increase its life and avoid expensive repairs. You can also maintain your roofing system by considering the following tips.
Tips & Tricks to Handle Emergency Roofing Repairs
Below are some basic and most effective emergency roof repair tips every homeowner should know to keep their roofs in tip-top condition.
Avoid Doing the Emergency Roof Repair in Horrible Weather
Going up on the roof during bad weather is dangerous. You can get hit by lighting or blow off the roof while trying to fix the roofing problems caused by horrible weather. So, avoid doing emergency repair tasks in bad weather and wait for the right time. If you are experiencing water leakage, just put a bucket under the roof leaks and wait until the weather is clear to check and repair the harms.
Have the Right Tools and Materials for Emergency Roof Repair
If you are planning to repair your roof on your own, you must have the right tools and materials to complete the job efficiently. Fixing a roof leak with duct tape or likely material is not right. Using the wrong materials or tools for an emergency roof repair can cause serious damages to your roof and yourself (in some cases). Make sure the tools and materials don't cause any damage to you and are the perfect fit to avoid leaks and other roofing problems. If a roof leak or other problem is difficult to handle on your own, you should hire a reliable emergency roof repair company to get the job done proficiently. 
Inspect Your Roof Carefully
Most people think that the leak over a carpet is coming from a hole, straight over the carpet. But it is possible that water leaking from the roof is flowing from another source or hole that is invisible. That's why make sure to check the roof for all clear and hard-to-see leaks. Using a hose is a good idea to point out the roof leaks that are unseen. Once the weather is clear, go over the roof and have a quick roof inspection to see if there are any new damages or leaks caused by the weather. If there are some minor leaks, follow the basic DIY roof leak repairs. But if there are major harms to your roof, be quick to contact professional roofing contractors in your area that offer reliable emergency roof repair services.
Your Roof is not The Only Thing to Inspect
A hole in the roof is not the only cause of water leakage. There might be other sources of leak that can damage your roof and overall personal property. If there are big water stains along your walls, then check out other areas like gutters for clogging. This will help you ensure the water is flowing from the roof properly and don't damage your roof, and walls.
Consider Preventive Measures
If roof damage or leak in bad weather has led to a lot of water, you must perform the basic emergency roof repair to stop the puddle of water. Consider basic preventive measures to make you're your roof doesn't collect rainwater. For example, clogged gutters are one of the major causes of collected rainwater to put extra stress on your roofing system. This not only can damage your roof but can also cause foundation issues. Keeping debris off of your roof is another important preventive measure you should consider to prevent roof damage. Unattended debris can be dangerous for your roof as it causes shingles to rot or develop mold and mildew issues. Therefore, clean the gutters and keep the debris off on a regular basis especially when there is massive rain expected in your area.
Opt for Temporary Protection
As conducting emergency roof repairs in bad weather is not a good idea, you can opt for temporary protection to avoid major pitfalls. A quick protective cover or a temporary roof can help you prevent both internal and structural damage. If there is an uncontrollable puddle of water from the roof, make sure to shift all your expensive possessions and belongings to another safe area of the home.
Contact a Professional As Soon As You Can
Most DIY emergency roof repair tasks are temporary solutions. Once you are good at getting temporary protection or doing a quick fix to your roof, remember to contact local emergency roof repair contractors in your area to tackle the roofing issues properly. Experts at A to Z Construction are professionally trained and experienced to recommend and implement long-lasting roof repairs to extend the lifespan and quality of your roof. Along with fixing your roofing issues, they can also provide guidance and instructions on how you can prevent such roof damages or harm in the near future. You can make a quick call or fill out a contact form to get a free online quote related to any of your roofing projects.
Final Words
There are several emergency roof repair tasks and jobs you can perform safely. But there are some complicated and potentially dangerous jobs that can lead to injuries or other major damages when doing them yourself. So, leave those complex roof repairs to professionals as they are trained to tackle such issues expertly. Doing a proper search can help you find a reputable and licensed roofing company in your town. Just hire a professional roofing contractor and save time, money, and headaches in the long run.