PREMIER STORM DAMAGE MN REPAIRS
Your Go-To for Storm Damage Minnesota
It's a given – Minnesota is known for its unruly weather that can take a turn when we least expect it. Whether it's heavy snow and freezing rain in the winter or high winds and pouring rain in the summer, any inclement weather can take a toll on your Minnesota property. Here at A to Z Construction, we have a team of experienced storm damage specialists who prioritize emergency repairs of any kind to protect and restore the home you love. Our goal is to help you recover quickly from any damage caused by severe weather.
Storm damage can easily diminish the value of your home, which is why having an expert on your side is a necessity. We invest time in fully assessing the damage, so you can receive a fair estimate and start on repairs right away. By choosing to work with A to Z Construction for your storm damage repair needs, we guarantee you'll receive unparalleled service and only the best products and services every time. If your Minnesota home has been damaged due to a storm, we encourage you to call our office now to schedule an inspection.
Why Choose A to Z?
QUALITY
No matter the size of your project, we ensure you receive only the best materials and services around-the-clock. Our work is also backed by a full warranty.
PEACE OF MIND
We're invested in every client we work with, meaning it is our goal to leave your home looking and functioning like new – no matter what.
ASSISTANCE
We know the insurance claims process can be stressful, so we're here to guide and assist you through the process. You'll be back to normal in no time.
Types of Storm Damage
Storms in the Midwest come in all shapes and sizes, meaning you never know what to expect. More times than not, Minnesota weather results in the need for repairs after a storm. Storm damage is typically caused by excess water, high winds, hail, and heavy snow and ice. Here at A to Z Construction, we're well-versed in Minnesota weather and have worked with property owners throughout the state to get repairs completed quickly. Here are a few common types of storm damage you might notice on your Minnesota home:
Missing shingles | Damaged siding | Stripped roofing | Damaged flashing | Roof leakage | Broken soffit or fascia | Hail damage | And more
Insurance Claim Assistance
We understand how stressful the insurance claims process can be – especially when you're already worried about the state of your Minnesota home after a storm. Luckily, A to Z Construction has experts familiar with the storm damage claims process who communicate directly with area insurance companies. Our team is dedicated to making the insurance and storm damage repair process easy, so it's the last thing on your mind.
#1 Storm Damage MN Contractor
We know how taxing storm damage can be on your property, life, and wallet. A to Z Construction is one of the leading storm damage repair providers in Minnesota, and we can assure you that our team has your back every step of the way. Over the years, we've gained familiarity with not only Minnesota weather, but also the impact it can have on area homes. Rest assured; our storm damage specialists are only a phone call away, meaning we can help you identify any damage and get it repaired quickly.
You deserve a storm damage Minnesota contractor with industry-leading skills and dedication to providing a quality customer experience. We encourage you to explore what A to Z Construction can do for you and your Minnesota home today.
Understand the Effects of Hail Damage
Our storm damage experts are familiar with the toll hail can take on your Minnesota home. Unfortunately, not all hail damage is noticeable right away, which is why gaining advice from an expert is vital. If damage is left untreated, it can turn into a much larger problem down the road.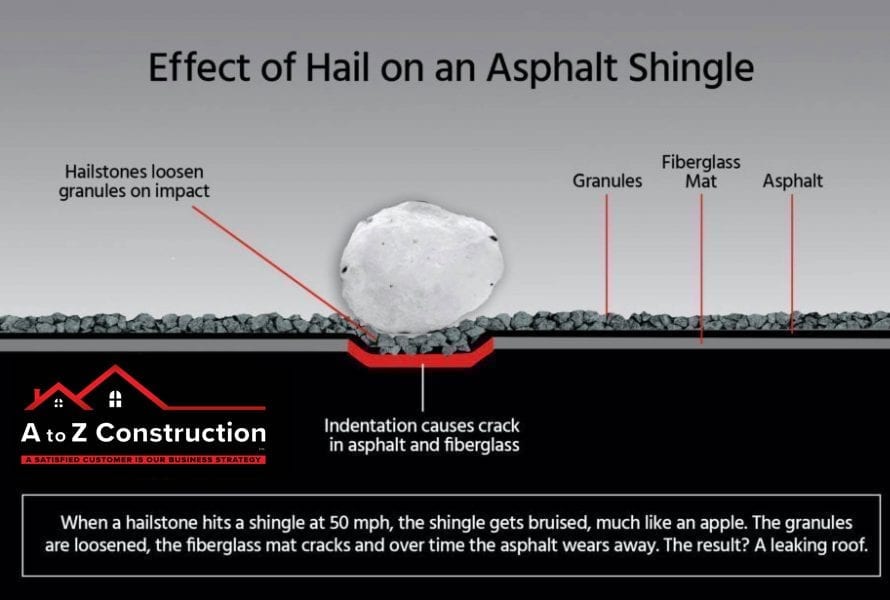 Hail Explained in 3D
Storms can produce hail in a range of sizes, but have you ever wondered just how big it can get? Take a look at the video below, so you can be prepared for the next storm.
OUR STORM DAMAGE REPAIR PROJECTS
Explore past storm damage repair projects, so you can see how our team can help you.
Choose A to Z for Your Storm Damage Minnesota Repairs
If your Minnesota home has recently endured damage from a storm, it's vital that you have an expert on your side so repairs can be completed in a timely manner. A to Z Construction has been in the storm damage repair industry since 2004, and we guarantee you can rely on our team for any storm damage needs. Whether you've already identified damage, need expert advice, or have questions regarding the insurance claims process, A to Z Construction is here for you every step of the way. Contact our storm damage specialist today to set up your free inspection, so we can get your Minnesota home looking like new.