Minneapolis Bathroom Remodeling Contractors
Remodeling your bathroom is a valuable addition to your property's aesthetic appeal and can increase the value of your home. However, finding the right contractor can be daunting. That's why we're here to help you navigate the process and provide all the information you need to make an informed decision. 
We'll cover everything from the benefits of remodeling your bathroom to what services you can turn to A to Z Construction for. If you're ready to get started on your Minneapolis bathroom remodeling project, we encourage you to contact our team today..
Minneapolis Bathroom Remodeling Services
Whether you want to replace your shower, renovate your bathtub or modernize your bathroom fixtures, we have skilled contractors that can cover all your remodeling needs. Here is a glimpse into the bathroom remodel services we offer at A to Z Construction.
Picture yourself surrounded by beautiful tile, glass, or marble while enjoying the perfect spa-like shower experience. We can help you select the perfect rain showerhead, body jets, or steam options to create your sanctuary. Our team of professionals will ensure that your Minneapolis bathroom remodel is not only luxurious but also functional and practical.
Ready to indulge in a relaxing soak? Choose from our selection of soaking, whirlpool, or walk-in bathtub to discover the ideal fit for your bathroom. With our expert guidance, you'll have a beautiful and functional bathtub in no time.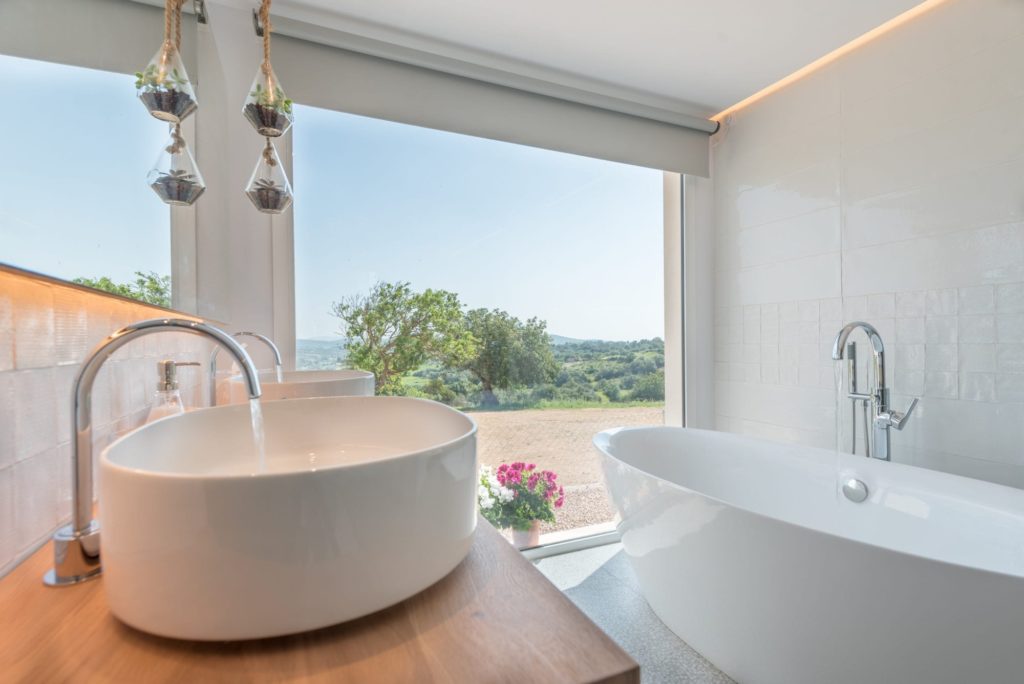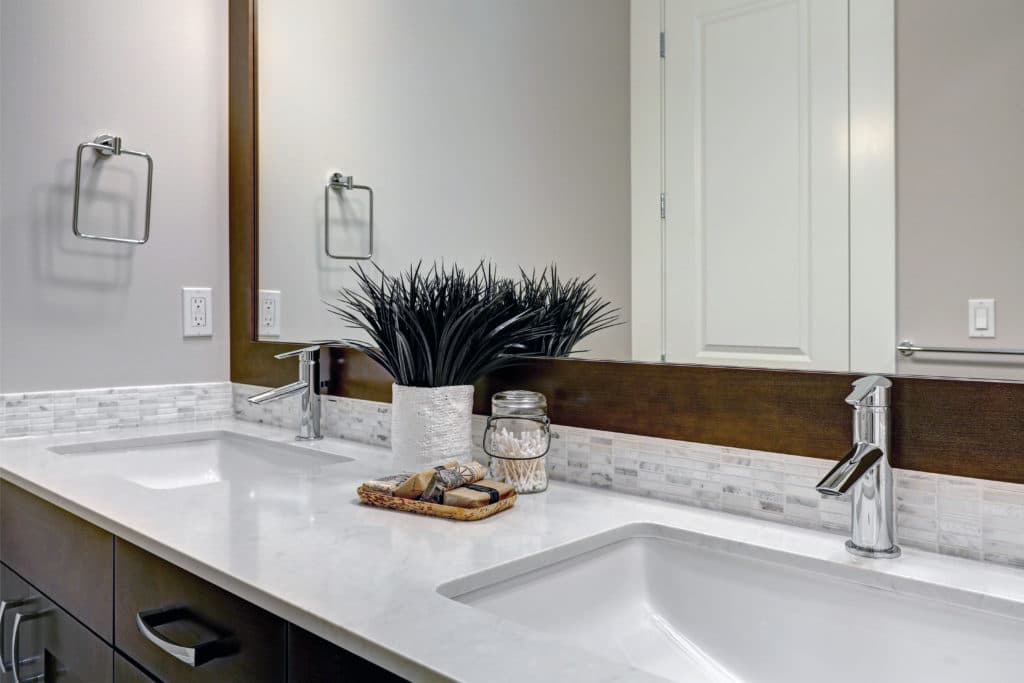 Your bathroom cabinets and counters should be both stylish and practical. Our range of cabinet options, from classic wood to modern designs, will leave you spoiled for choice.
The right flooring can make or break the ambiance of your bathroom. We'll help you choose from tile, vinyl, hardwood, and other materials to create a beautiful, durable, and moisture-resistant surface.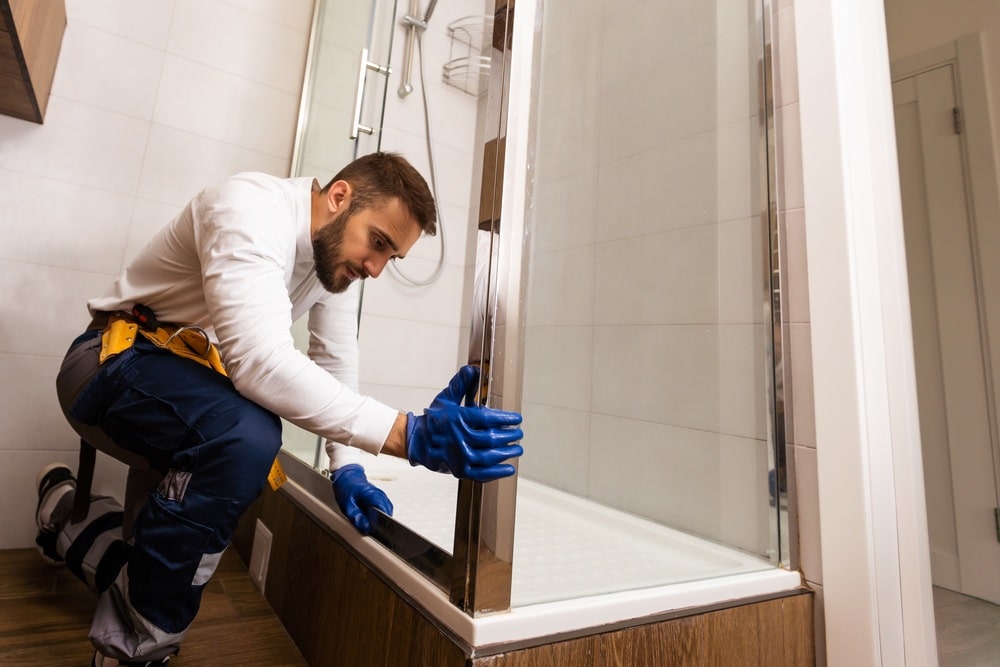 The finishing touches in your bathroom are what make it truly your own. We'll help you select the perfect fixtures to fit your style and budget, from faucets to towel bars, and ensure that the details are exactly how you want them.
Our Bathroom Renovation Process
We'll take a closer look at our bathroom renovation process below, so you know what to expect as we work to turn your bathroom dreams into reality.
Initial Consultation
Our process begins with a preliminary meeting during which we get to know you and your bathroom design goals. We'll measure the area, discuss your style and functional requirements, and then give you a detailed quote. 
Design and Planning
The bathroom design and planning phase will then begin, where our knowledgeable staff will use their creativity and experience to create a strategy that precisely complements your area. We'll consider everything from the current bathroom design to the plumbing and electric work to ensure your new bathroom blends seamlessly into your new home. 
Construction
We'll begin the building phase as soon as the bathroom design is complete and the plan is in place. Our team of experts is dedicated to delivering the highest quality workmanship and you can count on us to be communicative, punctual, and respectful of your space.
Final Walk-Through and Inspection
Once we finish the construction, we'll conduct a final walk-through and inspection with you to ensure everything is perfect. We'll ensure you understand how all the features work so you can enjoy your new bathroom to the fullest.
Designing Your Dream Bathroom
We're committed to working closely with homeowners to design and build the custom bathroom of their dreams. We approach bathroom design collaboratively, working with you to comprehend your style, needs, and budget. Our team of experts will listen closely to your vision and create a design that caters to your aesthetic preferences.
Experts in Bathroom Remodeling
We have a history of providing our clients with top-notch results here at A to Z Construction, so you can rest assured that your bathroom remodel will be exceptional. Here are just a few reasons why you can trust us with your bathroom remodeling needs:
Experienced and Knowledgeable Contractors
Every project benefits from the years of experience and knowledge that our team of contractors brings. We keep up with recent market trends and best practices, therefore, we have the expertise to handle even the most challenging bathroom renovation projects.
Wide Range of Design Options
Recognizing that no two bathrooms are alike, we provide a variety of choices to meet your requirements and aesthetic preferences. We have the know-how to create a design that completely matches your contemporary or classic concept.
Use of High-Quality Materials and Products
Using high-quality supplies is crucial to creating a bathroom that stands the test of time. For this reason, we work with reputable companies and suppliers to find only the best supplies and items for your new bathroom renovation projects.
Attention to Detail and Customer Satisfaction
We're not satisfied until you are. To guarantee that your new bathroom meets or exceeds your expectations, we pay special attention to every detail, from the initial consultation to the final walk-through.
Benefits of a Bathroom Remodel
Here are some of the benefits you can enjoy from a bathroom renovation:
Increased Home Value
A contemporary, updated bathroom can significantly increase the value of your home, providing you with a fantastic return on investment.
Improved Functionality and Comfort
After a bathroom renovation, your bathroom space can become more functional, practical, and efficient. We can achieve this by increasing your storage capacity, improving the layout, or upgrading to more energy-efficient fixtures.
Enhanced Aesthetic Appeal
Remodeling your bathroom can drastically transform the look and feel of your home, creating a lovely and tranquil space.
Increased Energy Efficiency
An older bathroom can be a significant energy drain, resulting in higher utility bills and a less eco-friendly home. You can save money by updating your bathroom with low-flow toilets and showers, and energy-efficient lighting.
Get Your Free Bathroom Remodel Estimate
Let A to Z Construction bring your dream bathroom to life. We're here to guide you through every step, from the initial consultation to the final walk-through. Contact us today to schedule your free bathroom remodel estimate, and let's start building your ideal Minneapolis bathroom haven.
Why Choose A to Z?
QUALITY
For every project, we ensure that manufacturer guidelines for installation are both met and exceeded. We also provide a full warranty on the work completed.
PEACE OF MIND
We complete all work properly and ethically to ensure your home not only looks its best, but is also functioning as it should.
ASSISTANCE
We work with all insurance companies to make your home looking its best again. We assist you throughout the entire insurance process as well.