YOUR DECK CONTRACTOR
A beautiful, spacious deck has become an essential part of how we entertain in our homes, spend quality time with our families, and enjoy the beauty of a crisp  Minnesota autumn night. At A to Z Construction Inc., we know that when you decide to add a deck onto your home or upgrade an existing one, you're looking for it to become a beautiful, functional addition for years to come.  
When you're looking for the right contractor for your deck project, look no further than A to Z Construction Inc. No deck project is too big or too small for our team of experts. We work with Minnesota homeowners to build a completely new deck structure or remodel a deck that will not only spruce up their exterior but will also add significant space to their home and significant value to their property. The deck contractors at A to Z are ready to get started on your deck project so you can have the additional space you want and need to relax, entertain and enjoy your home through many Minnesota seasons.
DECK SERVICES
With years of experience and a proven commitment to quality craftsmanship, superior customer service and expertise, A to Z Construction Inc. is the clear choice to build the deck of your dreams. A to Z has been building deck additions to Minnesota homes since 2004, and our experience, combined with our design know-how and dedication to making your dreams become a reality is what sets us apart from the competition. You can count on our work being done to the highest standard and completed on time by any A to Z deck contractor. We will work with you from the start, ensuring that any deck you add on or refurbish will be one that inspires and upgrades your home for years to come.  A to Z provides:
Deck Installation

Deck Remodel

Deck Upgrades

Deck Enlargements
Contact the Minnesota deck contractors at A to Z Construction Inc. today, and we will get your project started as soon as possible.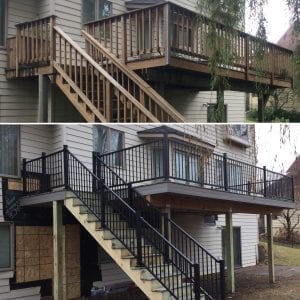 Take a look through our past deck projects.
WHY CHOOSE TO A TO Z
At A to Z Construction Inc., we know there are many deck contractors to choose from, and deciding on the right deck builder for you and your home can be an overwhelming prospect at times.  Since we began building dream decks in 2004, we have been installing, remodeling and refurbishing decks for Minnesota homeowners. 15 years of experience in turning your dreams into realized concepts, of knowing the right materials to use and the best building methods to utilize goes a long way! Our deck projects are consistently delivered on-time, on-budget, and with the highest quality craftsmanship. We plan for every type of challenge that comes with home improvement projects, and it is that planning and attention to detail that yields the superior results that A to Z Construction Inc. is known for all over Minnesota.  You can trust A to Z to build you a deck that will both enhance your enjoyment of your home, upgrade its value, and contribute to your quality of life!